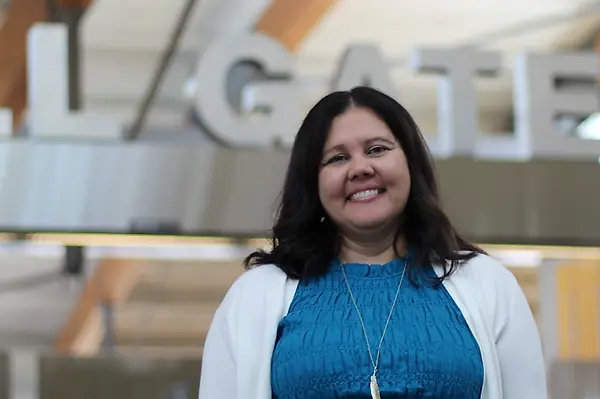 news
Erin Locklear '93 to deliver 2023 convocation speech
When Erin Locklear '93 steps to the podium at NCSSM-Morganton on Tuesday, Aug. 15 to deliver the 2023 Convocation speech, she will be wearing jewelry in the shape of an eagle feather. It might be a pin on her clothing, or maybe a pair of earrings. Perhaps it will dangle from a necklace around her neck. However she chooses to wear it, the feather will not be an accessory. For years now, Locklear has reached for her feather whenever she felt in need of comfort, strength, and assurance that things were going to go well.  
But this isn't superstition, either. Not in any way is this superstition. "It's biblical, it's religious, it's cultural," says Locklear, who was raised on a plot of family land behind her grandmother Dollie's house in a close-knit Lumbee Indian community just outside of Fairmont, North Carolina. "It's a connection to nature and to a higher power. It's aspirational. It's morality, decency and strength, and it reminds me of who my family is, who I hope to be, and where I come from."  
Where Locklear comes from is inextricably tied to who she is. There's her tribe's ancient history, of course, as people of the land well before any European ever set foot on the continent. But more immediately, there's her individual experience of growing up surrounded by grandparents, aunts, uncles, and cousins. Even at school, faculty and staff – many of whom she knew from her community – felt more like family than authority figures tasked with overseeing her education.   
Through it all ran a sense of belonging rooted in common experience. Like the marbles embedded in concrete at her grandmother's house that spell out her grandmother's name, Locklear's sense of self is part and parcel of where she came from. "My identity," she says, "is in that dirt."  
Kicked wide open
From the beginning, school was a special place to Locklear. Besides the intellectual stimulation it provided her – she loved reading, writing, math, and band, she says – it also provided her with access to friends. Where she lived, frogs singing in road-shoulder ditches were far more plentiful than nearby playmates; fields of broomstraw were her after-school playgrounds.  
"I just ate it up," Locklear says of being in school. "I had really great teachers and administrators and staff who were invested in me, even when I was just a little girl. I knew they were on my side, I knew they wanted me to do well. And they just lit me up with curiosity."  
Her parents did the same. Both employed in local textile factories – her father in a facility that made tee shirts, her mother a voracious reader who worked in a mill that built polos with the well-known penguin on the chest – they instilled in Locklear the belief that how far she could go in life was determined only by how far she chose to look. But traveling that distance, however long or short it was, would require hard work. Look at her grandmother Dollie, they said. She came from sharecroppers who owned little more than the clothes on their backs and the mules they drove through rented fields. Now Locklear's family lived on land Dollie had originally purchased with money she made picking cotton. Her father was an example, too; he worked nights at the plant and went to UNC-Pembroke during the day where he earned a degree in math.  
"I never thought there was something I couldn't do," Locklear says. "Nothing ever really felt out of reach for me. And that's due to my parents."
If you talk with Erin Locklear for very long about home, family, friends, or loved ones, her voice will break and her eyes shine through tears before she wrangles the emotions. It happens as she recalls her youth; it happens again as she revisits her path to NCSSM, and the person she credits most with her application to the school.
Dr. Joan Barber, a now-retired long-time faculty member, administrator, and revered icon of the school, first met Locklear at the Duke Young Scholars program where she was helping out. Since sixth grade, Locklear had spent part of her summers at various camps, often at universities around the state. As much as she loved home, the camps sparked her curiosity about the bigger world. She landed in the Duke program as a rising ninth grader.
The month Locklear spent in the Duke Young Scholars program introduced her to fields of study she didn't know even existed. There were hands-on science experiments unlike any she had ever participated in before. "It was a phenomenal experience," Locklear says. "I left it with such an appreciation for academic learning and that type of environment, and I knew I wanted to do that more."
Dr. Barber showed her how she could do that while still in high school.
NCSSM wasn't entirely a mystery to Locklear. Her older brother had briefly considered an application to the school before choosing to finish out high school at home. It was Dr. Barber, though, who filled her in on all that NCSSM could offer a curious and ambitious student.
"Dr. Barber took those horizons that my parents had already expanded, and she just blew them out of the water," Locklear says, and here her emotion breaks through. "She kicked open a door for me and invited me in and changed the trajectory of my life."
For the next two years, Locklear took all the math and science courses she could take back home, with an eye toward her NCSSM application.
Leaving home to go off to a different school, if the opportunity came, would not be easy. As comforting as the tight social bonds that are often found in rural communities can be, they sometimes can squeeze a bit too tight. That hesitance to loosen one's grip is based in love, and the desire to hold close the things held most dear, and when one's collective history is of oppression and struggle, the desire to insulate oneself verges on self-preservation, among the strongest of human instincts.
But Locklear's parents never let that weigh on her. "There was no doubt," she says, "that I would go to NCSSM if I got in."
Her acceptance letter arrived in an oversized envelope that foreshadowed the significance of its contents. She took it to school the next day to show her friends and teachers.
Still native
NCSSM was unlike anything Locklear had ever experienced. The classes and activities she had previously found only at summer camps often hours away were now in classrooms and science labs three minutes from where she slept at night. Gone were the days of having to find rides – if a ride could be found – over miles of bleached road to after-school extracurriculars. To participate in activities such as band or volleyball, now all Locklear had to do was walk across campus. And the friends who were once miles away? Now there were friends so close and constant that, even at 3 a.m. in her dorm, all Locklear had to do was call out in the darkness and someone would answer.
No one specific moment at NCSSM stands out more than any other in Locklear's mind as representative of her time there. The whole experience, she says, is etched in her memory as a giant, collective feeling of joy. "I can tell you," she says, "that I don't know if anybody enjoyed it more."
But something unexpected happened that does stick with Locklear to this day; she became aware of herself.
Locklear never truly grasped her place in the world as a Native American until she got to NCSSM. Back home in Fairmont, no one sat around with friends and neighbors talking about what it meant to be Lumbee because they already knew.
"It was like a fish in water," she says. "I didn't have to think about the water. I didn't have to really think about the other fish."
But at NCSSM, very few kids shared the same cultural skin. She wasn't singled out in any way, or made to feel like an outsider. That's one of the great things about NCSSM; students bond most often around curiosity and a shared intellect.
Still, when something you've always known is no longer constant, you begin to notice it more. That, with a general awakening of one's self during their teens, led to introspection.
"I had to think about, okay, I'm not just native because I was around other natives. I'm still native," Locklear says. "I started asking myself, 'Is this something that I value?' And the strong answer to that was, 'Yes.'"
She found a mentor in Joe Liles, a founding faculty member who had immersed himself in Native American cultures though not of native descent himself. With his support, Locklear and others at the school created NCSSM's American Indian club, established a Powwow, and started a traditional drum group called Southern Sun. NCSSM was leaving its mark on Locklear, but she was leaving her mark on it, too. The American Indian Club – now known as Akwe:kon – is still active on campus, and very much involved in organizing the Powwow, which in February held its 31st annual event on the Durham campus. Like always, Southern Sun was there.
Any other way
College led Locklear to Princeton University where she earned a degree in sociology before returning home to UNC-Chapel Hill for law school. A strong desire to serve others led to a stint doing non-profit work with prisoners, but for someone with tears at the ready, the job was too much to bear. Five years in a corporate law firm was the opposite – it didn't touch her heart at all.
For 16 years now Locklear has served as Senior Vice President and General Counsel for Raleigh Durham International Airport. It's perfect for her, she says, in what it offers – the opportunity to be part of an organization that serves the community – and what it doesn't – heartache. She also volunteers for a number of organizations and serves on NCSSM's Board of Trustees. In all these positions, she tries to make sure that the work she is doing is opening doors for others the same way a door was opened for her when she was just an eager and curious kid from rural southeastern North Carolina.
"It would be impossible to separate NCSSM from my life," Locklear says. "I can't even fathom it being any other way. It is part of me and I am part of it."
Just like the eagle's feather she'll be wearing at convocation.