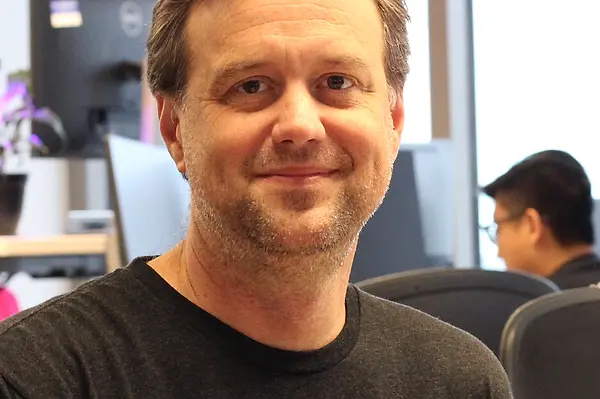 news
Erik Troan '91 speaks at 40th Convocation
Erik Troan '91 in the offices of Pendo in downtown Raleigh.
Update August 15, 2019: Watch a video recording of the Convocation ceremony.
___   Erik Troan, NCSSM Class of 1991, has tears in his eyes. Just beyond the 14th-floor conference room where he sits stretches the green canopy of trees that give Raleigh its nickname, the City of Oaks. It's a beautiful sight, one that Erik, co-founder and Chief Technology Officer of the homegrown software company
Pendo
, has earned.   But instead of taking it in, he is peering up at a blank corner of the room, mute for an instant, remembering two moments with his father. One is a distant memory. The other is more recent, near the end of his father's battle with cancer.   "This is going to be hard for me to say," Erik manages. A faint smile rises at the corners of his mouth. His eyes blink.  
The future flashes by
The Troans arrived in Raleigh in 1983, part of IBM's long migration south from the Hudson Valley city of Kingston, New York, where Erik had spent most of his time riding his Big Wheel on their dead-end street or playing basketball with friends. It was a great time for the 9-year-old kid to arrive in the Old North State. North Carolina State University had just won the national championship in college basketball. "That was the first basketball game I had ever watched," Erik says. "I had no idea that we were moving down here. Nine months later I was in Raleigh."   Erik arrived with his father, step-mother, and his only sibling, a brother one year his senior. He enrolled in the Wake County public school system and, for the next six years, if he wasn't hooping it up with basketball friends, he was goofing around with a computer.   "I was a little geeky, pretty nerdy," Erik says.   The Troans often returned north to visit family in Pennsylvania, passing through Durham on I-85 each way. On each return trip they passed a Department of Transportation sign planted firmly on the shoulder of the road near the Guess Road exit. "NC School of Science and Math," it read in white letters on a green background, tugging at the family's curiosity as it flashed by. "I remember seeing it over and over and not knowing what it was," Erik says.   In the eighth grade, Erik and his family decided to find out just exactly what the place was. Someone, perhaps his father, Erik speculates, called the school and found out it was only for the last two years of high school. "So," Erik says, "I didn't really think much about it again."   Until two years later. By then Erik, whose strong academic ability had allowed him to skip ahead a grade, was a sophomore at Raleigh's Broughton High School where he held the distinction of being the shortest person in the entire school. Not the shortest
boy,
but the shortest
person
.   "My best friend said, 'Hey, I'm going to apply to this science and math school,'" Erik recalls. "I said, 'Oh, yeah, I remember that.' It clicked in my mind about the street sign." So Erik applied, too.   "My father was my biggest cheerleader," Erik says. "He was incredibly enthusiastic. He found out what we had to do [to apply]. He actually called the school to make sure they had everything they needed. So he was all about it."    
Reinvention
"Life-changing."    That's how Erik describes his time at NCSSM. Though the geeky, nerdy kid that he was, it wasn't academics that most influenced Erik. "Maybe I took an extra semester or two of math at Science and Math; it did not change my life," he says. "It just. . . didn't. I took an extra year of biology. Never used it again."   He got a fresh start outside the group of kids who had known him since he was nine years old.   "I went into Science and Math quiet, probably confident in my intellect but not a lot of confidence socially, not really that comfortable in my own skin," he says. "I came out socially confident with a tight group of friends I was going to college with, with a stronger ability to communicate, [and] much more knowledgeable of where my limits were and where they weren't.   "I reinvented myself," Erik adds, "in a group of kids who accepted that reinvention."   Though not "the biggest writer/English kid" upon arrival at NCSSM, Erik's junior-year English teacher taught him, through writing, the value and joy of clearly exchanging ideas and information with others.   "When people say, 'What did you learn at Science and Math that was so important?' [I say] I learned to communicate. I learned to write. I learned to speak. I learned to communicate with others. And I learned to have confidence."    
Formative experiences
Two experiences live foremost in Erik's memory nearly three decades later. One may yet inform his future. The other led him directly to where he finds himself today.   "There was a language teacher there named Dr. Houpe," Erik recalls. "He was my Russian teacher. He was there forever. He spoke, like, a hundred and eighty languages. He had a software program for IBM PCs; it was basically flashcards for all these different languages. And he brought teachers in every summer from around the state to learn to use this [software] as part of their teaching. And he brought me in for a week between my junior and senior year to help teach those teachers how to use it. That was pretty cool. And it opened up possibilities. It made me start looking at things a little differently."   Soon after school resumed in late August, Erik found himself at the front end of another opportunity that would have a lasting effect on him.   For the entire history of the school, regular classes have been suspended for a set period of time each spring to allow students to participate in research of particular personal interest to them. Today it's known as Mini-Term and lasts two weeks. When Erik was a student in the early '90s, it was a one-week experience called Special Projects Week.    In September of his senior year, Erik and three of his friends began working between and after classes on their project, a robot they would debut in March. Word quickly spread across campus that he and his friends were getting a significant head start on something that wasn't even 'due' for another seven months.   The team worked nearly from scratch. Hardware that can easily be bought today as a single assembly had to be built from scratch. Items ordered from catalogs came without documentation. Erik and his friends became familiar faces at the Radio Shack at nearby Northgate Mall.    Special Projects Week arrived. Erik and his friends carried their robot to the bottom of the school's Watts Hall where they hoped it would navigate the passageways without bumping into the walls. The halls were packed with students who had come to see what was going to happen.   "It looked awful," Erik says of the rolling tangle of wires cloaked in black vinyl sheets. "And we must have had a hundred and twenty kids there. They literally lined the halls. We thought, 'Oh, well; this will be interesting.'"    They powered the robot up, fed it commands, and crossed their fingers. The 'bot rolled forward five feet, stopped, scanned for obstructions, rolled forward, stopped, scanned for obstructions, rolled forward.   "It worked
perfectly
," Erik says. "It was absolutely ideal. People were excited and cheering. How validating.   "What's the motto of Science and Math?" Erik continues. "Accept the greater challenge? It was a greater challenge. It feels so trivial now because of how computers have moved, but the four of us worked our tails off to make it work. It had a really cool outcome with a lot of people excited for us in an environment where people thought, frankly, that building a robot was pretty cool."   For Erik, there was something to this idea of working with others to build something from scratch and see it succeed, an energy and excitement that could move people forward to accomplishments not even considered possible before.    Just a few years later, he took a summer job after college at an unknown Raleigh startup with a cool logo called Red Hat.  
The rise
Erik's plan coming out of high school was to become an academic. He entered a new, accelerated program at N.C. State that would move him from freshman to Ph.D. in a little over six years. Four years later he had completed a double major in Computer Science and Computer Engineering with a minor in math. A full ride to complete his Ph.D. at State awaited. "I was going to become a professor," Erik says. "I really enjoy the theoretical, math side of computer science.   "But," he adds, "I needed a summer job."    Throughout college, Erik had worked at places like SAS and IBM where he became familiar with the Unix computer operating system. But a new one called Linux was replacing Unix. Eric had become deeply engaged in this open-source software as well, even traveling internationally to geek-out with other Linux fans. Jonathan Magid, an NCSSM class- and hall-mate, had first introduced the operating system to Erik — and would later introduce Erik to a friend of his at UNC named Brigid, who would become Erik's wife.   That summer, a Linux startup called Red Hat brought Erik on. He was their fourth employee, and their very first engineer.   "They were
tiny
," he recalls. "And the term 'open-source' didn't even exist yet. We called it 'free software.'"    At the end of the summer, Red Hat's founder asked Erik to stay on. Across town, his Ph.D. scholarship to State awaited him. Erik turned to Brigid, who was his steady girlfriend of a few years by this time, for advice.   "If you're not going to do this now," she asked him, "when are you going to? What do you have to lose?"   He deferred grad school for a year. At the end of that year Red Hat again asked him to stay. "I'm going to go to grad school part-time," he told them and entered the Ph.D. program he had long dreamed of.   "I made it three weeks," Erik says. "I realized I was far more interested in what I was doing at work than what I was doing in grad school."   By 22, Erik had made manager at Red Hat. By 25, he had led the expansion of the company's engineering team from one — himself — to over one hundred and played a key role in moving the company through an initial public stock offering.    Though the company wasn't Erik's ("The founder of Red Hat owns a Canadian football team. I can get a nice football," Erik says), he took ownership of the culture they were creating, the products they were creating, and considered himself fortunate to be part of such an incredible team of individuals all working toward the same goal.   But 18 months after that IPO, Erik stepped back to catch his breath and ran head-first into a self-reflective question. "'What. Just. Happened?'"    "I didn't really understand what happened," Erik says. "I needed to go and figure out what just happened to me. So I said, 'Hey, I need to go' — I stayed part-time — and I moved up to Charlottesville to get a master's degree in economics." He was 28 years old.   Erik returned to Red Hat one more time, after grad school. It now had 600 people. No longer was he able to wear many hats like he did when it was a start-up. And he missed that energy, that challenge.   So he left again, this time for good. With him went another unanswered question. "Was it me or was it the market?" Erik wondered about his success. "Did I actually make a difference? Could I do it again?   "It was an experience that I thought I'd never have again."  
Same question, different answer
While a lot of people his age were still developing their careers, Erik was already a known entity who had made a big splash. Now he was ready for his next big move. So, while still "riding high from Red Hat," he founded a new company of his own called rPath.   It was a failure.   "rPath taught me a lot of painful lessons," Erik says. "I was there for seven years. I learned technology isn't what people buy. People buy solutions. I learned that market timing really, really
is
important. A lot of the technology we built was years before anybody really needed it."    Red Hat had been "just magic," he says, "and then I had this thing that just didn't go as well. I cost a lot of people a lot of money. It was not a success. I'd be lying to myself if I said otherwise. It was a painful experience.   "Did I learn from it? Absolutely. Did it make me better for Pendo? Absolutely. Would I rather it had succeeded? Absolutely. Nobody's going to say failure is better than success or that it's more fun. But you learn a lot. I learned way more from rPath than I learned from Red Hat."   There was nothing to do but make an exit, so Erik sold to SAS. The next couple of years he spent "detoxing" from the failure of rPath and wrestling with the same question he'd asked himself after Red Hat's IPO: "What. Just. Happened?"  
Success, again
The miscalculation at rPath humbled Erik a bit, but it didn't ground him. Another idea would come, another opportunity.   It arrived in the form of Todd Olson, a former exec from Rally Software Development with an almost-complete idea for a new company called Pendo that needed someone who could build a world-class engineering team. He asked Erik to lead that effort and join Pendo as a founder.   "Todd and I, temperamentally, really clicked," Erik says of the relationship he has with his CEO. "It was a team. . . that really complemented each other and worked hard, and Todd wanted to win bad. We had a strong core vision."   Erik found, once again, the success he was looking to replicate. Today Pendo, a product experience platform that helps digital product teams create user-friendly software, has 350 employees around the world in San Francisco, New York City, London, Sheffield, and Herzliya, Israel with its corporate HQ in Raleigh. Their customers range from Fortune 500 enterprises to business-to-business tech startups to educational institutions.    "There were four founders of Pendo," Erik notes, then pauses for a beat. "There were four kids working on that robot at Science and Math."   
A new opportunity
Erik will be a young 50 years old when the last of his three children — all boys — graduates from high school. There's no particular timeline for what's after, no detailed plan. But 50 may very well prove to be an excellent end point for one part of his life and a starting point for something new. "What's next for me?" he says. "I'm going to find a way to do something that's different than building a company and different than building my own success."    There's a lot for Erik to choose from. There's that little unresolved matter of his original plan of becoming a professor. He and his wife are also active philanthropists, generously engaged in a number of initiatives in and of the Triangle to include the Morehead Planetarium and Science Center and his wife's alma mater and NCSSM's sister school, the South Carolina Governor's School for Science and Mathematics.    And then there's NCSSM. After serving for several years on the board of the NCSSM Foundation, through which he provides the school with an endowment and generous programmatic support, Erik joined the Board of Trustees at the urging of the school's chancellor, Dr. Todd Roberts. It was a tough sell at first.   "I said to Todd, 'I don't have time. Please ask me again in five years. I'd love to be a Trustee. Ask me again in five years. Let me get this thing (Pendo) going.' And then he started talking about [the new campus in] Morganton. I was like, 'Oh my god, yes.' I can help open up another school? A school that parents who would say no to Durham (because of the distance from the western part of the state) will say yes to and feel good about it? That's why I said yes."   "We've wanted to get him involved in the Board of Trustees for some period of time, and he has been busy," Roberts says. "Finally, in a moment of weakness, I was able to convince him that this is a critical time, a transformational time, for the school, and his leadership would be very helpful with the Morganton campus launching, with the fundraising campaign coming."   "Science and Math changed who I was," Erik says. "It gave me leadership abilities, it gave me self-confidence, it introduced me to someone who brought me into Linux where I started my career. . . that same individual introduced me to my wife, she was part of the conversation about whether I should stay at Red Hat, and it got me into [a very strenuous and competitive academic program at] N.C. State. You can't find anything in my life that didn't flow some way out of Science and Math."   Roberts' appreciation and acknowledgment of Erik's service mirrors Erik's admiration for NCSSM. "With all that he's got going on," Roberts says, "he's given [NCSSM] what's a really valuable resource for him: his time. He really wants as many students as possible to have the kind of experience that he valued at NCSSM. He's a true champion for the school."   Erik has worked hard to give back to the school more than time and energy. An endowment at the school bears his last name, and he generously but quietly supports a number of other initiatives at the school as well.   Katie Wagstaff, who recently retired from NCSSM after serving as the president of the NCSSM Foundation, had the opportunity to work with Erik on a number of projects. "Erik loves Science and Math and wants to see it improve every place that it can," she says. "It's a great relief to know that you've got folks who are genuinely concerned and excited about education in North Carolina, especially education as it's produced by Science and Math."    NCSSM's Katie O'Connor, Vice Chancellor for Academic Programs, has an up-close understanding of the daily impact Erik's support has on the school and its students. "Erik embodies the qualities of an ideal volunteer for our community," she says. "Equally as important as his volunteer support are the opportunities he creates for students through his financial assistance. I am always in awe of his unassuming generosity and sincere altruism."   "Science and Math changed me," Erik says again. "You can trace everything I have to the value of that education. And though my total giving to the school may have surpassed the
cost
of a Science and Math education, it
has
not
surpassed the value of a Science and Math education. If I gave more to Science and Math than the value of that education, I'd have nothing left."  
What it meant
Having gathered himself, Erik begins with the story that so quickly carried his emotions to the surface.   He was, he says, at the house of his friend whose application to NCSSM inspired his own when the school's decision arrived in the mail. "It was in this white envelope with green triangles on the side," Erik says. "Very official looking. And it was a thin envelope. It wasn't folded. There wasn't a lot to it.    "My friend opened it up, and he didn't get in."   Erik's father arrived later that day to take him home. With him was the same thin envelope. Erik wouldn't open it. "I literally threw it on the floor," he says. "My father picked it up and read it. He said, 'I think you should read this.'"   Erik pauses again. That slight smile rises on his face once more, then falters at the corners before he continues.   "The last time my father came to my house — he was terminal and we all knew it — I said, 'Hey Dad, I don't know if you remember the day I got into Science and Math but I just want you to know: that meant a lot.'"
Share this post.