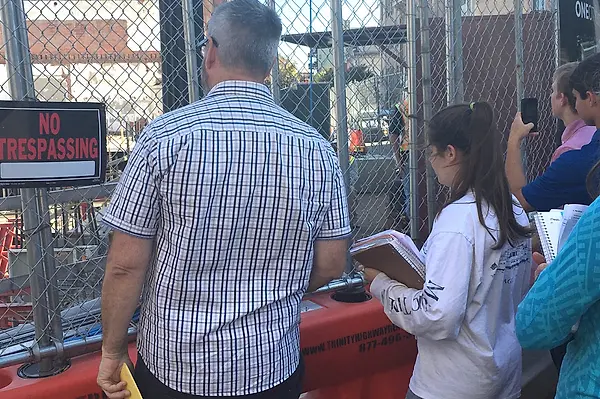 news
Engineering class visits construction site of downtown high-rise
Architecture students survey plans during their field trip to downtown Durham with Instructor John Kirk (right). Behind the students, the former Jack Tar Motor Lodge is being renovated as a boutique hotel and parking garage for the One City Center high-rise tower.
Students in the Engineering Architecture class took a recent trip to downtown Durham to visit the site of One City Center, a 27-story mixed use tower under construction on Main Street. Standing on the site of a former Woolworth's store, the high-rise is expected to open in 2018. 
For their final projects, the students are using a Revit model of downtown to place and design their own buildings. "The site visit gives them an opportunity to see the real, physical context of what the students are designing," says Instructor John Kirk. "Buildings are three dimensional objects in which people live, work, and move, and it can be difficult to truly imagine the size and scope of what you design in a computer.  
"It's also important to see the buildings that exist around what you're designing to get a feel of how your design fits in with its neighbors. This site visit gives the students an opportunity to see how a thriving downtown works, what kinds of businesses and residences fill the spaces, to see how pedestrians and storefronts interact, and to see the effects of unused, open, or blank spaces in the fabric of the city."
  The students also saw firsthand some of the architectural styles — neoclassical, modern, art deco, beaux arts — that they've studied in class and how they have been applied in the context of downtown Durham.