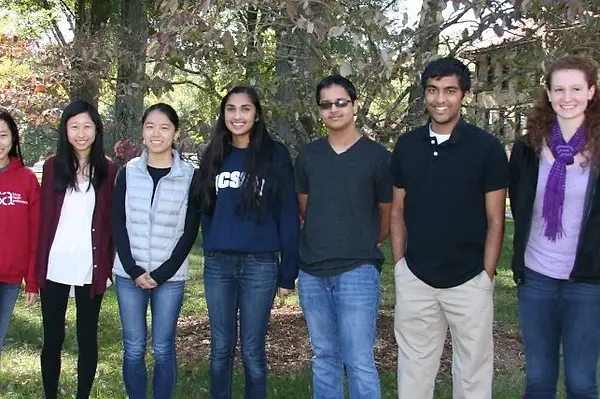 news
Eight students earn Siemens recognition
From left to right: Sophia Hu, Michelle Sun, Sarah Wu, Shreya Patel, Vinit Ranjan, Rishi Sundaresan, and Margie Bruff. Not pictured: Katherine Yang.
Eight seniors from North Carolina School of Science and Mathematics have been recognized as semifinalists and/or regional finalists in the 2015 Siemens Competition in Math, Science, and Technology. The students are being honored for their research in biology, chemistry, computational science, mathematics, and physics.
Nearly 100 regional finalists, including two from NCSSM, will advance to the next round of the competition, where they will compete in one of the nation's foremost research competitions for high school students. The Region 6 competition, which includes NCSSM, will be held November 6-7 at the Georgia Institute of Technology. Winners of the regional events advance to the national finals at The George Washington University in Washington, D.C., on December 6-8, where $500,000 in scholarships will be awarded, including two top prizes of $100,000.
Also advancing to the national finals in Washington, D.C., are this year's semifinalists, including eight NCSSM students. Each year, approximately 1,500 students submit research papers and only 300 are chosen as semifinalists. Winners of the competition will be announced on December 8.
NCSSM's 2015 regional finalists:
Shreya Patel, Cabarrus County
Vinit Ranjan, Wake County
NCSSM's 2015 semifinalists:
Margie Bruff, Wake County
Sophia Hu, Wake County
Shreya Patel, Cabarrus County
Vinit Ranjan, Wake County
Michelle Sun, Wake County
Rishi Sundaresan, Wake County
Sarah Wu, Orange County
Katherine Yang, Orange County
Follow their journey through the rest of the competition at www.siemens-foundation.org.
Share this post.