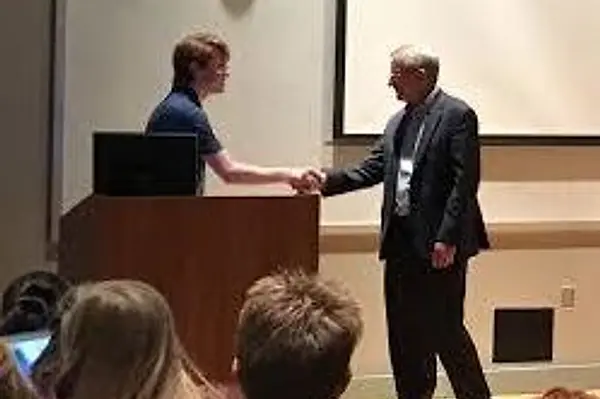 news
Durham mayor Steve Schewel visits campus, speaks with students
Durham Mayor Steve Schewel spoke with students on campus this week
Durham mayor Steve Schewel visited North Carolina School of Science on Mathematics this week, speaking with students to discuss his experiences in community activism and the importance of getting involved. The visit was paired with a voter registration drive held earlier in the day. Both events were organized by NCSSM senior Darren Janz.
Over 100 students attended to hear the mayor speak, filling the school's lecture hall to standing room only. Mayor Schewel shared brief remarks with students about his background in community activism, his career as a public servant, and why he feels it is important for this generation to be involved in public life. "When I think about my generation in politics, I think we've done a lot of things that are important and good," said Schewel, citing advances in particular in regard to race since he was a child growing up in Lynchburg, Virginia. "But there are some things we haven't done that we're leaving to you."
"Pretty soon," he said, "these things–these problems, these challenges–are really going to be in your hands, and I hope that you feel the necessity and the power to change these things."
Following his remarks, the mayor answered students' questions on both Durham-specific and national issues, covering topics like gentrification, poverty, race, immigration, and homelessness.
"I believe that it is important for our students, as members of the Durham community and future leaders, to interact with and learn from the thoughts and experiences of current public servants," says Janz, who organized the visit, as well as a visit earlier in the year by Senator Mike Woodard. "We were happy to have Senator Woodard and Mayor Schewel share with us their beliefs on why local government is important, how their personal experiences have led them to become leaders, and the importance of young people becoming involved in governmental and political action."
Earlier in the day, volunteers from nonprofit You Can Vote were on campus for a voter registration drive held outside the cafeteria during lunch time, also organized by Janz. Community members age sixteen years or older were able to pre-register, register, or update their registration. "[The drive] registered eighty-four students to vote," says Janz. "We were ecstatic by this result, as participating in government through voting is a central aspect of being an active, involved community member."
As for Mayor Schewel, he left students with these words: "I want to challenge you and say that, as you go on to college and on to your careers, it is one thing to live an exemplary private life… but the challenge for you all, if this world is going to be what we want it to be, is to live an exemplary public life."
Share this post.