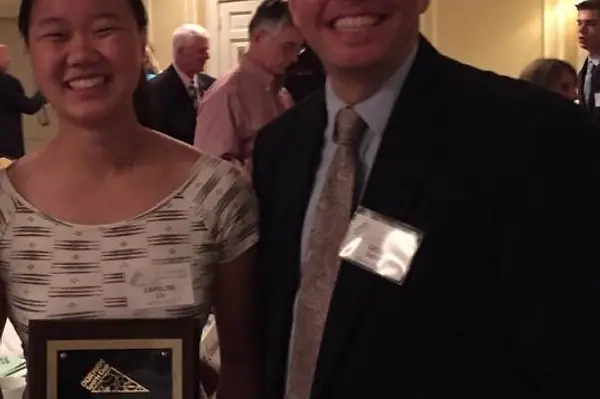 news
Durham Herald-Sun: Liu '15 top female athlete
Caroline Liu '15 with Vice Chancellor for Student Life Terry Lynch (left) and Athletic Director Greg Jarvis at the Durham Sports Club with her  Mildred Barnes Female Scholar-Athlete Scholarship Award.
The Durham Sports Club awarded Caroline Liu '15 its Mildred Barnes Scholar-Athlete Award for top female athlete of nine Durham-area high schools. Liu, a swimmer, has been among the top finishers in her events in state competitions for the past four years. She's also been a top-25 finisher in the Southern Zone Eastern Section championships, and participated in the USA Swimming National Diversity Select Camp.
Beyond athletics, Liu was a national finalist for the Conrad Spirit of Innovation Challenge and winner of the Sigma Chi International Student Research Showcase. She was a finalist in the international ISEF competition sponsored by the Society for Science and the Public, and a semifinalist in the Siemens Research Competition and the N.C. International Science Challenge. She is headed to Massachusetts Institute of Technology (MIT) in the fall.
"The hours swimming aren't what made it interesting," Liu says of her sport. "The people you meet and the friends you get to make are what I will miss most. They are unique, and there is a large alumni network to hold on to for the rest of your life."
Read the Durham Herald-Sun story.
Share this post.