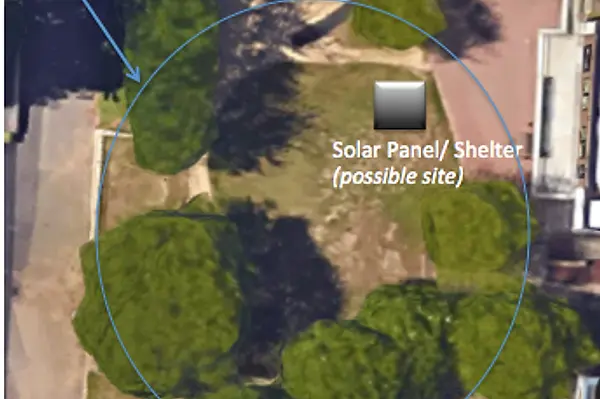 news
Duke partnership and student-led projects top list of sustainability initiatives
The future site of the Sustainability Courtyard, one of the major sustainability projects on deck this school year, in addition to a partnership with Duke's Nicholas School of the Environment.
NCSSM students and employees are undertaking a diverse set of initiatives this school year around sustainability and environmentally consciousness. The school year's sustainability initiatives kicked off with a workshop in partnership with Duke's Nicholas School of the Environment. Faculty, staff, and student Sustainability Project Leaders (SPLs) met with representatives from the Nicholas School to discuss sustainability efforts on each campus and to brainstorm a number of projects for the year ahead.
Last year brought a major lighting upgrade to campus, student-led programs such as sustainability hall competitions, and a new solar panel grant. The previous year, we added Elkay water bottle refilling stations around campus, launched a major recycling initiative, and repaired steam and water leaks. Each of these initiatives have helped make the school a little greener, but we still have work to do, says Steve Warshaw, former vice chancellor for academic programs, who has worked tirelessly over the last five years to make NCSSM a showcase of sustainability within the UNC system. Warshaw retired last spring after 30 years at NCSSM, but he continues to volunteer his time to help shape sustainability at the school.
Warshaw was one of nearly twenty who attended the workshop in August, which was led by Tavey McDaniel Capps, environmental sustainability director at Duke University, and Charlotte Clark, assistant professor of the practice in sustainability education and director of undergraduate programs at Duke. Later this school year, NCSSM students will team up with undergraduate students from Duke's Theory and Practice of Sustainability course to work on a compost project on NCSSM's campus.
Other sessions during the workshop included an overview of Duke's sustainability strategic plan and a discussion on integrating sustainability into the curriculum. Student SPLs presented a number of student-led initiatives that have been successful in previous years and new ideas for this year, including sustainable room certification for the residence halls. The day concluded with a group discussion of long-term sustainability goals at NCSSM and some of the major projects that will take off this year: construction of a new sustainability courtyard, installation of a new rainwater cistern and solar panels, and ongoing recycling and education efforts.
Faculty, staff, and student Sustainability Project Leaders participated in a sustainability workshop with Duke's Nicholas School of the Environment.
The workshop was organized by Linda Schmalbeck, science instructor and the first employee to fill the newly created Sustainability Coordinator role at NCSSM. With so much focus on sustainability and with so many projects lined up for this year, the position was sorely needed, says Katie O'Connor, vice chancellor for academic programs. "We have to make it a priority, and we have to put some resources behind it," says O'Connor. "With all our projects coming up this year, we really needed one point person to do that."
Schmalbeck and the SPLs will coordinate the sustainability projects, with input from others around campus including members of SAGE (Sustainability Advisory Group Educators), an advisory council made up of faculty and staff members. O'Connor hopes to continue to add to the "sustainability team," maybe eventually adding additional coordinator-type positions in NCSSM's plant facilities and student life departments.
The SPLs wasted no time in launching a number of their own initiatives on campus, even before classes began. On Move-In Day, the group of 10 student leaders led a campus-wide recycling effort to address the large amounts of cardboard, styrofoam, and plastic waste resulting from hundreds of students moving into their residence halls and unpacking things such as refrigerators and futons. The SPLs created centralized recycling stations on each floor of the residence halls and scattered themselves across campus to spread awareness of the effort and help collect recyclable materials.
Schmalbeck is proud of the effort. "I think students often wonder how much it matters if you take the time to recycle, especially when it's a bit inconvenient — like it is on a hot, crazy move-in day," she says. But the effort really paid off, says SPL Adithya Balaji '17. "After much toil, your friendly SPLs recycled all of the waste and were able to make a measurable impact, as the school needed an extra truck for all of the cardboard that was being recycled!" Balaji reports. Meanwhile, the SPLs are planning some of the upcoming programs like composting, sustainable room certification, and a sustainability kick-off event, says SPL Sophia Holmes '17.
First on the list of campus initiatives is the creation of a sustainability courtyard, in open space adjacent to the FabLab. Concept drawings are being created for the space, which will include a garden and a dedicated cistern to collect rainwater runoff from a nearby roof to irrigate the garden. The initial planning for the space, and the creation of grant proposal that will make the project possible, took place in a 2016 Mini-Term course on Rain Garden Design, says Schmalbeck. "Students in that Mini-Term worked with Dr. [Joe] LoBuglio [NCSSM instructor of engineering], Mike Dupree and Heather Dutra from Durham Soil and Water, and me to work out engineering details, sizing of the garden, etc., that made the grant proposal possible," she says. The group's proposal was accepted, and the project, which is scheduled to be completed by June, will be funded through a grant from Community Conservation Assistance Program.
Students will continue to be heavily involved in the project at each step, says Schmalbeck, representing both the SPLs and the club, Accept the Greener Challenge. 
A rough layout of the space notes where the garden and cistern will be, as well as a possible location for solar panels, within the new Sustainability Courtyard.
Share this post.