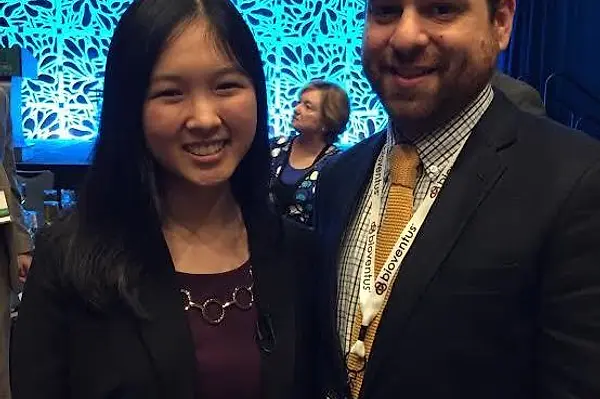 news
Dory Li '17 presents research at CED Conference
Dory Li '17 was the only student to present at the CED Life Sciences Conference in Raleigh.
NCSSM senior Dory Li recently presented her research at the CED Life Science Conference in Raleigh. Billing itself as "one of the leading life science gatherings in the nation," the conference draws a powerful mix of scientists, executives, entrepreneurs, educators and investors to the Triangle each year to celebrate the flourishing life science industry in North Carolina. Approximately 1,000 participants attend the event each year.
As one of five featured speakers at the conference, Li shared the spotlight with North Carolina's Secretary of Commerce, associate vice presidents at LabCorp and Merck, and a strategic alliance manager at Bayer CropScience.
Being the only student presenter among such accomplished individuals might have been a challenging situation for many, but not so for Li. "I was very excited," she says. "The stage looked a bit intimidating from afar, but that wasn't at all the case once I got up there. I enjoy sharing my work, so I felt comfortable and relaxed as I talked."
Li's presentation, "Diblock Protein-coated DNA Nanostructures: Application in Drug Delivery," detailed her development and evaluation of a new and unique coating for a DNA-based drug carrier. The project's focus on nanoscale drug delivery combined Dory's longstanding interests in biology, medicine, and engineering. Research results to date have been very promising, with the drug carrier showing excellent potential for use in the treatment of diseases such as cancer.
Attendees were impressed with the results of her work. "Several people came up to me to congratulate me," Li says. "The presentation was the conversation-starter. From there, I talked with entrepreneurs and pharmaceutical executives about their experiences and learned about how they had discovered their passions and purpose. It was interesting to be exposed to the 'business' mode of thinking, rather than the purely scientific side of things that I'm more familiar with."
"Dory is renowned as a poised and articulate presenter," says NCSSM Dean of Science Amy Sheck, who worked with Li and the CED staff to fine tune her presentation to the particular audience at the conference. "She presented to a ballroom full of pharmaceutical business people and investors and she gave one of the best talks I have ever heard."
The CED Conference has long heralded the accomplishments of North Carolina's Life Science industry. Li's featured presence, however, also illustrated the CED's commitment to promoting the next generation of thinkers and doers. The conference has, for a number of years now, turned instead to NCSSM and its students for a promising glimpse of the future. "It felt odd to be so highly lauded for a research presentation, something that seems almost normal at NCSSM," says Li. "But I guess that goes to show the amazing and unique learning environment fostered by our school."
The CED Life Science Conference is presented by the Council for Entrepreneurial Development (CED) in partnership with the North Carolina Biotechnology Center and NCBIO. Li was assisted in her research by Associate Professor Thom LaBean in North Carolina State University's Dept. of Materials Science and Engineering, and NCSSM Chemistry Instructor Michael Bruno.
Share this post.