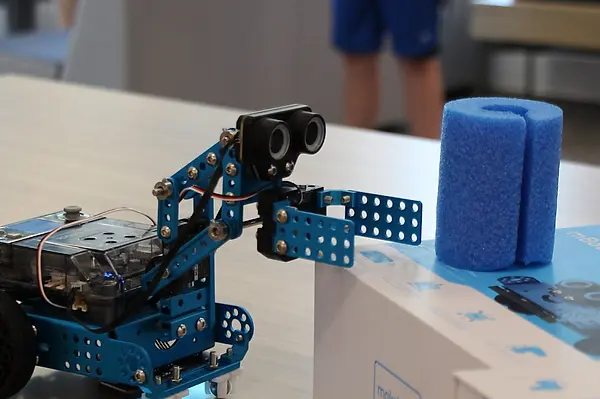 news
Dogwood Health Trust makes summer enrichment possible for WNC students
Police tape surrounded the crime scene where the "mayor," a straw-stuffed scarecrow named Miller Miller, had met an untimely end. Broken glass littered the floor between overturned chairs. An inflatable golf cart (it's so hard to get a real vehicle into a classroom building) anchored one corner of the scene. And, of course, there was the unfortunate mayor among it all.  
Circulating carefully among the scene set up outside an NCSSM-Morganton classroom was a group of middle school students documenting everything in photographs and drawings and measurements, testing for fingerprints, and collecting biological specimens. They were some of the more than 60 middle and high school students from Western North Carolina participating in a series of Dogwood Health Trust-sponsored Summer Accelerator courses, a tuition-based NCSSM program that allows students to take summer enrichment courses not generally available to them in their home schools. The Dogwood Health Trust grant allowed these students to attend at no cost. This marks the second summer the Asheville-based Trust has covered Summer Accelerator tuition in Morganton for students from 18 WNC counties. Middle schoolers could choose from Forensics or Design, Build, Code; high school students had as choices Pump it Up and Acquiring Data with Raspberry Pi.  
After processing the crime scene, the forensics students returned to the classroom, where they rotated between stations set up to analyze the information they had gathered.  
"I'm really looking forward to them discovering who did this," said course instructor Jennifer Miller. "They've already read about all the suspects and their motives. I told them, if they did just one lab, they could eliminate some people, but not everybody."
Working up evidence at one of those labs was Gregory Goranson, a rising seventh-grader from Fairview School in Sylva. Scattered from a small bottle on the table in front of him were a handful of dried maggots that Gregory and his classmates were sorting with gloved hands. The specimens came from a local bait shop, but in real life, maggots are almost always found at crime scenes involving a body more than a few days old – and can be quite helpful when establishing timelines of the crime.
For Gregory, the course had been a mix of puzzle-solving and Hollywood.
"Forensics has always been intriguing," he said. "You first get to look at the scene, you take the evidence all back, and there are all these cool steps in it and all these details in it. It's like fitting together puzzle pieces. It's like you're on CSI."
There was one thing though, that he hadn't at all expected: "What I didn't know," he said, "was that we'd be measuring maggots."
Pump It Up
Outside on the athletic field of the neighboring North Carolina School for the Deaf, instructor Katherine Glover organized the high school students in her Pump It Up course into pairs, then set them off on a series of target heart rate exercises that began with a brisk walk. The first group left, arms pumping vigorously as they walked as fast as they could. "They look like soccer moms!" someone yelled among the group awaiting their turn.
Miller later explained the course and its intent. "So the course is actually called Pump It Up: An Exploration of Body Systems and the World of Exercise. It's basically looking at the anatomy and the physiology of the circulatory and respiratory systems and how they work together and the impact exercise has on those systems."
To gain insight into it all, students had also worked on mockups of the different systems during the week, spent time on a hands-on lesson plan that illustrated how current travels through the body, dissected a pig heart, visited a local cardio rehab unit, and had lunch with a pulmonologist who led them through a hypothetical case study.
The course curriculum was a natural fit for Noah Stiggins of Shining Rock Classical Academy in Waynesville, who had always been interested in physical science and athletics. "It's been a lot of fun, and I've learned a lot being out of the usual school setting," he said. "I'll remember what I learned here a whole lot easier than if I was just taking notes on it."
Acquiring Data with Raspberry Pi
While Noah was running his heart rate up in the summer heat, Hailey Brown was elsewhere on campus, helping to measure heat in the Acquiring Data with Raspberry Pi course. Three T-shirts of different colors had lain out in the sun for several minutes, and now she was helping gather data on the temperature differences between the two. This suited the rising sophomore from Macon Early College in Franklin more than sprinting on the school's athletic field. "I'm more on the technology side of things," she said.
Hailey pulled into her laptop data that the Raspberry Pi and its attached thermal probe were sending. "This week has been wonderful," she said. "And even though it's only a week, I'm coming out of it with so much knowledge. I've learned so many things I never knew before."
Dr. Warren Jasper, who led the course and teaches at NC State University, said so many students in college engineering courses were really good at analyzing data and storing data, but not as familiar with acquiring data. It was important, he felt, to reach them a little earlier. "There's a certain foundation that you have to have," he said, "and that's what we're doing here."  
Design, Build, Code
Middle-schooler Kinley Stubbs, of Fernleaf Community Charter School in Fletcher, felt most drawn to the "Code" part of the Design, Build, Code class that used blue kit-built robots and Sphero Bolts (picture a tennis-ballish-sized clear plastic orb driven by a battery-powered and programmable internal engine) to teach students the engineering design process.  
While many students' robots traveled largely in straight lines from point A to point B, Kinley's machine followed a less-than-linear path around the tabletop, stopping, turning, reversing, and curling around as it made its way toward a stopping point. "I think making it go in a not straight path makes it more organic and more interesting," she said.  
Across the table from her, another middle-schooler, Ellis Byers from Brevard Middle School in Brevard, watched her own robot make its way around the space. "I'm more of a builder," she said as her robot made for the table's edge, "but I found out in this class that I'm a little better at coding than I thought."   
Ellis's robot seemed to be picking up speed. At the very last moment, just as Ellis frantically reached out to save her machine from tumbling over the table's edge, it stopped. Ellis turned her robot around. "We have nicknames for our robots," she added, smiling, as the robot raced off again like an eager and wayward toddler. "This one is named 'Disappointment.' " 
The week ended with student presentations inside NCSSM-Morganton's iconic Barn, where students gathered with their families, friends, and faculty to conclude the program. Gina Barrier, NCSSM-Morganton's Director of Summer Programs and Extended Partnerships, expressed afterward her appreciation for the students' and teachers' hard work, and the support of the Dogwood Health Trust. "We're just so grateful for all that the Trust has made possible these last two years," she said. "For many of these students, this was the first academic camp they've ever been to, and I'm happy that they got to have this experience. They were even able to keep and take home with them the technology they worked with."
"I must mention, too, how important it was to the program to have such talented instructors," she added. "They were so knowledgeable, and so good with the students, and it all just comes back to why this campus was established: to provide eager students with incredible educational opportunities in STEM fields."
"NCSSM's engaging and fun learning experiences for WNC students – especially in high-demand STEM fields – benefit our youth, our employers, and our communities," said Dr. Susan Mims, CEO of Dogwood Health Trust. "As a foundation focused on health and wellbeing, we know how important educational opportunities are for helping children and young adults visualize and grow into interesting and productive careers. That deeper engagement in learning and meaningful work leads to better outcomes in overall health and wellbeing, making programs like the Summer Accelerator a win for the entire region."