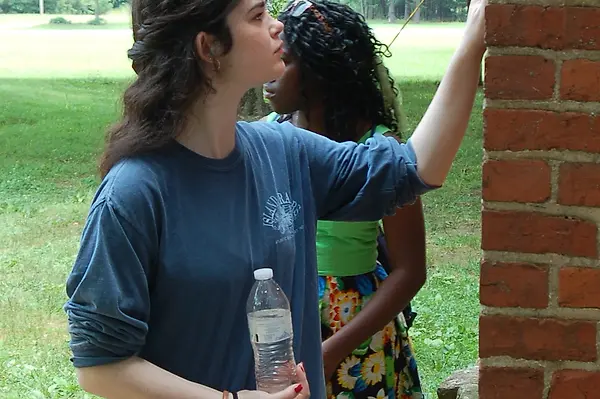 news
Discovering history: Students learn about sources for humanities research
Students enter the Hart House, home to freed slaves, on the grounds of Durham's Stagville State Historic Site.
Ten students spent last week learning about sources for research in the humanities with Instructor David Cantrell. The students visited historic sites and library archives including Glencoe, a preserved mill village north of Burlington with a Textile Heritage Museum; Reynolda House in Winston-Salem; Stagville State Historic Site in Durham; and  special collections libraries at Duke and UNC-Chapel Hill. 
"I want to give the students a sense of the riches they can find from diverse archives," says Cantrell, who will teach Research in Humanities this fall with these and other students. "And to teach them to look for sources that aren't texts, like built spaces."
On a steamy June afternoon at Stagville, the students walked through the stark former homes of enslaved people and the relatively lavish early home of the plantation owners. Two tour guides told the students that many questions still remain about plantation life in its heyday, in the 1850s. The Cameron family logged its slaves as possessions, just as they carefully catalogued their livestock and harvests, guide Vera Cecelski told the students. In those texts, she said, "sometimes we learn as much from what's not written as what is."
The humanities researchers stayed on campus along with 100-plus other students who are conducting research this summer with mentors. Cantrell expects the humanities program to grow. "There's a real demand for research mentorship opprotunities in the humanities," he says. "We're seeing a lot of interest in the social sciences among our students."
Share this post.