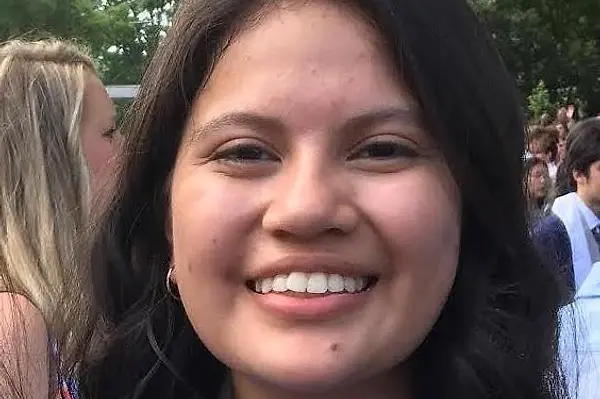 news
Diana Sanchez '18 makes the most of her opportunities
Diana Sanchez '18, right, with a friend at graduation.
Diana Sanchez has always had a passion for math. So, when a family friend told her about North Carolina School of Science and Mathematics, Sanchez scrolled through a course catalog and was immediately interested.
"After visiting the school and learning more about its history, I knew I wanted to attend," says Sanchez, who graduated from NCSSM in May. "The students at my Discovery Day were so academically motivated and passionate, and this really stood out to me. The advanced science courses and unique extracurricular activities such as research opportunities also stood out."
Coming from a small, rural high school in Elizabeth City, Sanchez was always at the top of her class but did not feel academically challenged. Since coming to NCSSM, Sanchez has been able to foster her intellectual curiosity and refine her learning and study skills.
"NCSSM has taught me a lot about how to learn and study," Sanchez says. "I had never been challenged at this level before, so it was a bit of an adjustment. Courses such as neuroscience helped me realize my passion for science. Through experiments such as sheep dissections, I learned to think on a higher level and understand how significant of a role science plays in the real world. I definitely have better study skills now, and I feel more prepared for college because of this."  
NCSSM has also helped broaden Sanchez's view of the world as she is now more interested in politics, current events, and societal issues.
"My hometown was predominately white," says Sanchez, who is of Hispanic descent, "so coming to NCSSM where there are students from all sorts of backgrounds has been great. I have been able to learn about other cultures as I have made friends with students of Chinese, Korean, Indian, and many other ethnic backgrounds."
Sanchez served as an officer for the school's Hispanic Cultures Club and was the president of Bailamos, a Latin dance organization. With the Hispanic Cultures Club, Sanchez helped organize Latin America Fest, a spring festival featuring singing and dancing, and she found it meaningful to showcase her culture. Sanchez's role in Bailamos also let her express her culture through dance.
Sanchez's zeal for NCSSM can be best represented by her position as an Admissions Ambassador giving tours of the school to prospective students and families.
Students chosen for this role exemplify the values held at NCSSM.
"I wanted to become an Admissions Ambassador because when I came to NCSSM for my Discovery Day, the passion that the students had for the school was so electric," she remembers. "This made me want to attend NCSSM even more. So, I became an Admissions Ambassador because I wanted the opportunity to express my affection for the school and help other students realize that NCSSM was the right fit them as well."
While at NCSSM, Sanchez also got to work in a research lab at Duke University. With her mentors, Sanchez worked with experiments on Lyme disease, and having the opportunity to engage with researchers and ask questions helped drive her scientific curiosity and allowed her to develop a more scientific thinking style.
Sanchez will attend Duke University this fall to major in Biology and minor in Mandarin, a completely new language for her. She plans to remain active in research and join Duke's Hispanic Culture's club. After Duke, she hopes to go on to medical school to specialize in oncology, a field she became interested in after family experiences with breast cancer scares.
"Of course, this was a very difficult, emotional and trying time for my family, but we encountered many caring, supportive, and positive healthcare professionals,." she says. "This helped me realize that I wanted to serve a similar role in the future. I want to be able to provide the type of emotional support that my family received."
Share this post.