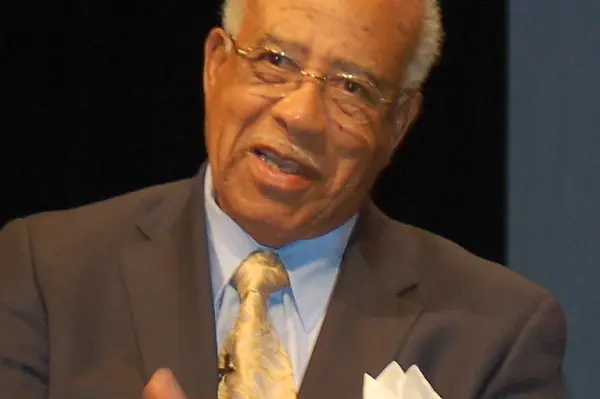 news
Day of service projects, talks mark MLK Day celebration
Colours, the NCSSM gospel choir, performs to open the annual MLK Day Assembly
North Carolina School of Science and Mathematics celebrated Martin Luther King Jr. Day with a day of service, discussions, and cultural celebrations, capped off with an annual assembly. More than 250 students volunteered at nonprofit organizations across Durham. On campus, students participated in service projects supporting local agencies, engaged in small group discussions and activities, and attended an afternoon assembly to hear a number of elected officials and community advocates recognize the work of Dr. King and the importance of continuing his legacy.
In the morning, large groups of students volunteered with the United Way, helping out at the community-wide celebration at the Northgate Mall and creating learning kits and "literacy bags" for area students with the Community Reads initiative. Clean-up groups worked with the Triangle Land Conservancy and the Eno River Association to build trails and remove invasive species. Smaller groups of  students took breakfast to local veterans and spent the morning playing board games with them. Others organized donated school supplies at Crayons 2 Calculators, volunteered at the Scrap Exchange, worked on the rain garden at neighboring E.K. Powe Elementary, and sorted food donations at the Food Bank of Central and Eastern NC. Students on campus prepared hygiene kits for local homeless shelters, wrote letters for troops, and made Valentine's Day cards for senior citizens.  
"I saw our students coming and going all day long," Chancellor Todd Roberts noted Monday afternoon, "going out into what was a really cold day, to do service in the community in a variety of places. Thank you for giving back… it's about what you do for others often times that defines what you yourself as a person are."
Back on campus, students participated in small group discussions and activities on civil rights, African and African American history, diversity, and inclusion. A number of small group sessions centered on the life and words of Dr. King, from watching and discussing the "I Have a Dream" speech to using art, dance, and spoken word to interpret Dr. King's influence. Other groups discussed contemporary issues such as urban school reform, mass incarceration, cultural appropriation, and topics of privilege, oppression, and identity and experience with their peers.
The day wrapped up with NCSSM's annual assembly honoring the work of Dr. King. Congressman G.K. Butterfield, representing North Carolina's 1st District and chair of the Congressional Black Caucus, provided opening remarks, shedding light on the history of the civil rights movement and paying tribute to the work of Dr. King, who "transformed a sad and dark part of history."
The afternoon's keynote speaker was Senator Howard Lee, who became the first African American mayor of a southern city when he was became mayor of Chapel Hill in 1969. Senator Lee, interviewed by NCSSM instructor Letitia Hubbard, Kailyn Price '16, and Rosemary Yin '17, shared his experiences growing up in the segregated South and the commitments he made to himself as a young teen to never leave the South, to fight toward equality, and to learn to work within the system to make change. Lee discussed the importance of both community organizing and of education, remarking on NCSSM's role in this important area, and shared his advice with NCSSM students.
"I am so grateful I've had the opportunity to engage with many of the students from [NCSSM]," Senator Lee said. "You are so fortunate. You have been blessed with an opportunity to come to one of the greatest schools in the South. This is the finest school any of you could ever go to, to develop the foundation to take on life when you walk out of this door. Don't hoard that." Senator Lee continued, "Leadership starts right now, right here, at this institution. I've learned that [NCSSM] students have been contributing to the community, by going out and contributing in different ways. That's how leadership is developed."
The assembly also featured the awarding of Keeper of the Dream awards to two women in recognition of their efforts on behalf of underrepresented minorities: Activist and former NCSSM trustee Dr. Lavonia Allison and NC State professor Dr. Lisa Guion Jones. (Read more about the award winners.)
Dr. Allison, a "true pioneer of social justice," echoed Senator Lee's thoughts on NCSSM, saying, "This is the most excellent opportunity that all you kids have! You've got to take it." On Dr. King's legacy, she said, "Wake up! That's the message that Martin Luther's calling us to do, wake up. I want each one of you to take those two words and make a difference in terms of what kinds of opportunities you have every day."
Dr. Guion Jones told the students, "You are here at, I would argue, the best high school in the nation. And it's an opportunity that many, many students just don't have…Don't squander a second, a minute, a day of this very very unique opportunity."
In his closing remarks, Chancellor Roberts told the students, "We have long said at NCSSM that today is a day on, not a day off, and one that honors the legacy of Dr. King. I hope that you will continue what you did today, when you can and how you can, working to help our state, our nation, and our world, do a better job of ultimately realizing the dream of Dr. King."
See highlights from the day in this Facebook album.
Watch the MLK Day Assembly on Livestream. 
Share this post.