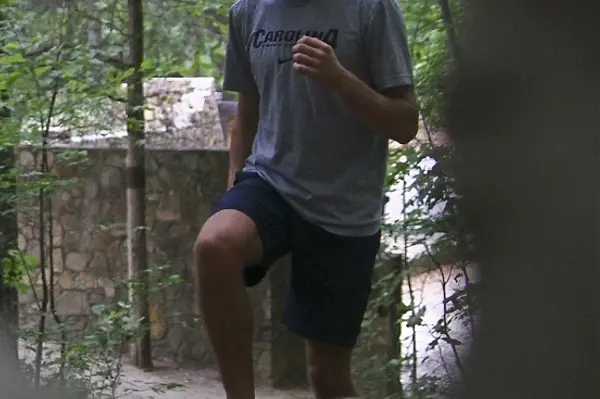 news
Daily Tarheel: Grad takes running to mountains
Stephen Mulherin '12 loves a challenge. His latest: mountaineering. Photo by Alex Kormann, Daily Tarheel.
Stephen Mulherin '12 came to North Carolina School of Science and Math from Blowing Rock, NC, as a junior looking for a challenge. Now a senior at University of North Carolina-Chapel Hill, he is after the next challenge—taking his love of running to the mountains.
While at NCSSM, his cross-country team won the 1A NCHSAA state title. He came in first place by a margin of 15 seconds. A year later, he accepted a spot on the UNC cross-country team to compete against other Division I schools.
"He's never really satisfied, that's for sure," said Steve Mulherin, Stephen's father. "The bigger the objective, the happier he is. He latches onto something, and he goes for it."
But for Mulherin, there has been no greater test than climbing a mountain. "In mountains, that's where you can go to get exhausted — mentally and physically exhausted," he said. "The altitude, less oxygen up there, it's steep, and you can pass out real easily. It's a mental game. It's hard-core and intense. You can really push your limits in the mountains."
Last summer, he packed up his Subaru and headed west, where he ran mountain trails and rock-climbed his way up Humphreys Peak, the highest natural point in Arizona. Then he hit the Grand Canyon, ran and climbed his way through Zion Canyon and Moab Canyon in Utah, and finally went to Boulder, Colorado, where he met up with fellow UNC cross-country runners to climb 14,259-foot Longs Peak. To Mulherin, climbing mountains and canyons was a mental game. Then that mental game turned into a challenge. And now, that challenge has turned into a career goal — to become a world-class mountaineer.
"I want to be the biggest and baddest dude who has ever been on a mountain," Stephen Mulherin said. "I know what I wanna do, and I'm going to do it."
Read the full story from the Daily Tarheel.