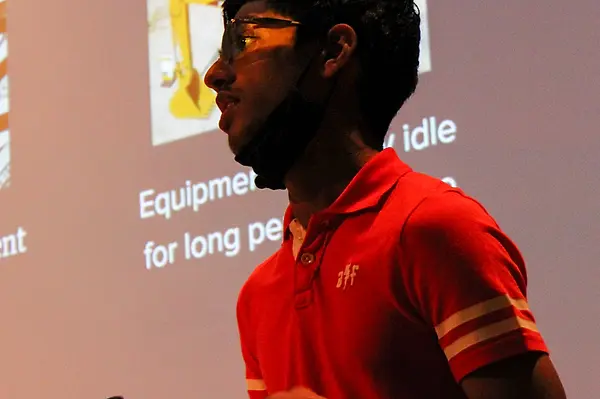 news
Cultivating the Entrepreneurial Mindset: SRIP Experience in Entrepreneurship
Read more stories about students' experiences in SRIP 2022.
After Aryan Goyal, a North Carolina School of Science and Mathematics residential student from Charlotte, and Marco Wellener, an online student from Pinehurst, discovered that both of their families had difficulties getting their cars repaired following minor accidents, they teamed up to develop a business idea to help increase the efficiency of auto repair shops. 
The students conceived a potential software program that would automate back-end administration and provide customer service by analyzing customer behavior and reaching out to potential customers. 
"I think the primary obstacle is trying to understand the problems that our customers have," Goyal said. "When trying to develop a solution … we want to really try and understand the real problem and come up with a product that is both realistic and would help people." 
The high school students got that opportunity, unusual for people their age, through North Carolina School of Science and Mathematics Summer Research & Innovation Programs, which afford research and innovation experiences across disciplines for NCSSM students in the two-week course titled How to do a Startup: An Experience in Entrepreneurship.
"We are going from zero to startup in two weeks," said Instructor of Economics and Social Sciences Chad Keister, who heads the program. "We're trying to give the students a chance to identify a real-world problem, a real pain point that people actually experience and that could be solved by an innovative product solution." 
During the program, students not only get to work with Keister but also hear from experienced entrepreneurs who lead workshops, answer questions about their own experiences in entrepreneurship, and provide feedback on students' ideas and business plans. 
Goyal said that for him, the highlight of the program was meeting entrepreneurs who were also graduates of NCSSM. 
"I am inspired by alumni who are doing really great work in real-world startups," he said. "That motivates me to pursue entrepreneurship in college and build my own products to solve different problems…looking at someone who has graduated from the same school, and took the same tests in the same classrooms is really cool." 
At the same time, students are learning how to conduct market research, create value propositions, and write business plans. 
"It's a bit of a whirlwind," says Keister. "Most students have no experience with entrepreneurship, but it's intriguing and interesting. It's interdisciplinary, it's real-world, but they really just start from scratch and go through a rational process to the point where they could actually pitch their ideas to potentially get some investment." 
Keister says the key is teaching students an entrepreneurial mindset.
"It's an exercise in ambiguity and complexity and being comfortable with messiness," he explains. "We say this is collaborative, supportive and risk-taking…It requires a lot of empathy because students have to understand what they are doing through the eyes of their end users. It's really being comfortable with asking questions – being comfortable with the fact that there may not be a right answer, that there are multiple answers, so the idea that it's wide open, iterative, and potentially nonlinear."  
Embracing the process leads students to delve into a wide variety of products and services. This year, students tackled everything from improved turmeric supplements to software that brings small- and mid-size building contractors together to create a rental market for idle equipment, to helping large families minimize food waste through an automated grocery ordering system. 
For Keister, growth in the Entrepreneurship program comes in the form of getting students comfortable with taking risks. 
"Growth really evidences itself in their willingness to take risks, to play with ideas, to throw some ideas out there and see what other people think, knowing full well that maybe other people won't think it's great or insightful – but that's okay!" 
Read more about How to do a Startup: An Experience in Entrepreneurship