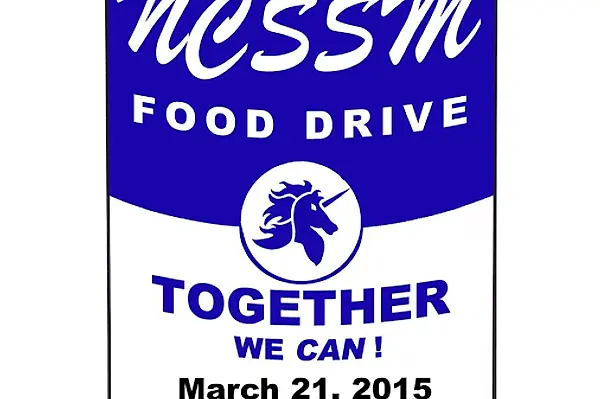 news
Community donations sought for food drive
Proud students show off some of their food drive collections from their world-record setting collection of 2011.
NCSSM's annual food drive will be held next Saturday, March 19, from 10 a.m. until 2 p.m. to benefit the Food Bank of Central & Eastern NC. Students will be stationed in front of the school that day accepting donations of canned and nonperishable food from community members, who can drive into the school's parking lot to drop off donations. Students will also collect canned food and money that day at two Kroger stores, on Hillsborough Road and at the Northpoint Shopping Center. Through the "Bag the Neighborhood" effort, NCSSM students will also collect paper bags of donations from the porches of neighboring Watts-Hillandale residents that day, after leaving the bags and instructions with neighbors on March 12. The food truck Will & Pops will be stationed on campus that day from 11 a.m. to 1 p.m. and will donate a percentage of profit from the day to the food bank.
North Carolina School of Science and Mathematics has a proud history of successful food drives over the last six years. "This program has yielded approximately 50,000 pounds of food annually for the food bank," says Service Learning Coordinator Sue Anne Lewis. "Without the help of NCSSM students, faculty, and staff, the NCSSM Food Drive would not exist. The student leaders of Unis Fighting Hunger appreciate all that this community does."
Lewis, also a student life instructor at the school, remembers the fateful school year of 2009-2010. That's when student residence life assistants (RLAs) chose a hall theme of world records and tried to set a Guinness World Record for the largest gathering of nerds. Guinness didn't approve that category, so the students turned to the world record for the largest 24-hour food drive at a single location. That first attempt saw 319,990 pounds of food collected, and it inspired the NCSSM community to try again in 2011.
On March 5, 2011, NCSSM broke the Guinness World Record with help from many family members and friends from across North Carolina. "The record for the largest 24-hour food drive at a single location still stands at 559,885 pounds of food," Lewis says. "NCSSM has donated more than 1 million pounds of food during its history to the Food Bank of Central & Eastern NC, which serves 34 counties within the state."
For the week leading up to this year's seventh annual food drive, individual residence halls and employees are competing for the highest per capita dollars raised through a coin drive outside the cafeteria and through an online giving site. "Students get pretty competitive," says Belton Moore '16, a member of the Unis Fighting Hunger club. "Last year there was a major push to go get rolls of pennies at the last minute." Pennies and dollars count positively toward the final amount for each hall; silver change (perhaps sabotage contributions from a competing hall) subtracts from the hall's total. The prize is an off-campus evening trip to enjoy a movie, s'mores, and more this spring.
Employees and community members can support the food drive in a number of ways:
Give online, and share this link with family and friends as well; these donations will count towards the penny barrel competition.
Donate in person on Saturday, March 19 by bringing food donations (and/or checks to the food bank, made out to "FBCENCC") to campus between 10 a.m. and 2 p.m.
Serve as drivers and chaperones for the students stationed at the two grocery stores that day. Sign up here to volunteer on March 19.
Eat at Elmo's on Tuesday, March 15. The restaurant is donating a portion of its day's profits to the food drive
Moore says he was inspired to get involved with the food drive by helping at Kroger last year. "It was a busy time of year, and it was hard to take the whole day to do it, but I felt really good when I did that. It's rare to feel that useful with your time," he says. This time of year can be rough for food banks, he notes, because people tend to give around the holidays but forget to keep giving as the winter goes on.
"There's more awareness of hunger than you might think on campus. Some of our students come from low-income families and have experienced hunger, even though you might now know it just seeing them." 
Share this post.