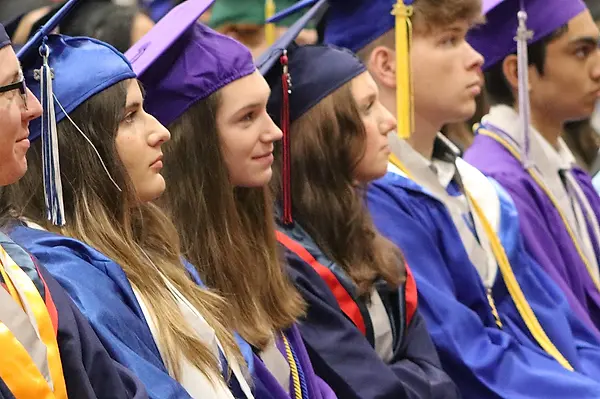 news
Colorful cast of students complete NCSSM Online program
Some 230 students representing 128 high schools from 60 of North Carolina's 100 counties received certificates Sunday morning in a ceremony recognizing their completion of the North Carolina School of Science and Mathematics Online program. NCSSM Online students take virtual courses from NCSSM alongside the course load at their local high school, a way that dozens of North Carolina's top students add even more rigor to their academics.
The Online Class of 2023 shone brightly, wearing graduation caps and gowns in the full spectrum of colors of their home schools while flanked on either side by family and friends filling the bleachers of the NCSSM-Durham gymnasium.
Sophia Fratta, a homeschooled senior from Chapel Hill, credited the Online program for expanding the opportunities available to her. "I think NCSSM Online opened a lot of doors for me," she said. "I had an internship and I got a scholarship that I only knew about because of my teachers at NCSSM, so it's been really, really, really good."
Mekhi Patterson from Knightdale High School shared a similar sentiment. "I would definitely say it gave me an edge because it's a selective program that not many high school students participate in, so I think it gave me something extra in my college applications."
NCSSM Chancellor Dr. Todd Roberts encouraged the students to embrace the increased opportunity to shape their futures.  
"Up until now your path, particularly your education, has been pretty well prescribed for you," he said. "From here, however, your path becomes much less prescribed. As you begin this next part of your journey, know that while it may not be as linear as the path you've traveled thus far, you are so well prepared and ready for what you will make of it. I encourage you to continue to choose your own path. The journey ahead of you is yours to fulfill your own potential and purpose, so take your steps ahead with the confidence to be great and more importantly, the will to be good."  
Rishabh Singh, a senior from Ardrey Kell High School in Charlotte, delivered the student address, acknowledging the division in the country while expressing hope in his fellow graduates that they can overcome any challenges they may encounter.
"When I look to us today, I feel encouraged that there is still a chance that improvement within our nation is still possible," Rishabh said. "I ask that you take a moment to remind yourself of what NCSSM is capable of, and I ask that [you] keep faith in both your efforts and in the very fact that humanity can improve because, without faith, none of us will ever be inclined to at least try to restore our community. No matter where you end up in life, remember that faith is a very powerful thing, and not just when it comes to making a difference. The first step to anything is conceding to its possibility."