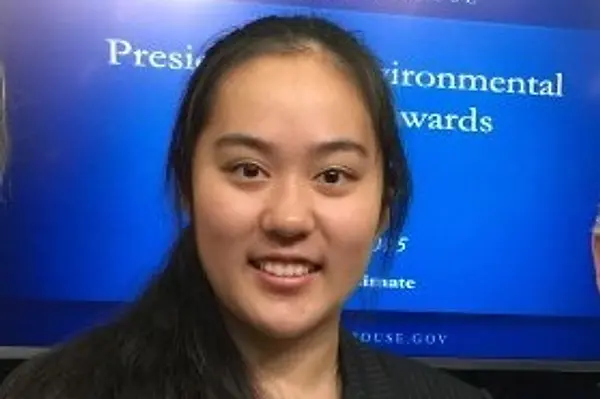 news
Chen '16 earns presidential award for green innovation
Sharon Chen, second from left, appears after the White House ceremony with Managing Director of the White House Council on Environmental Quality Christy Goldfuss, EPA Administrator Gina McCarthy, and Associate Director for Public Engagement at the White House Council on Environmental Quality Angela Barranco.
Sharon Chen, a rising senior at North Carolina School of Science and Mathematics, earned a President's Environmental Youth Award or developing a new, green method to recover copper from wood. Chen received the award at a ceremony at the White House last week along with other students and teachers being honored for their contributions to environmental education and stewardship.
"To solve our future environmental challenges, young people need to understand the science behind the natural world — and create a personal connection to the outdoors," said EPA Administrator Gina McCarthy. "These teachers and students are demonstrating the important role of environmental education, and showing how individual actions can help address climate change, protect the air we breathe, and safeguard the water we drink."
The PEYA awards celebrate student leadership in service projects to protect the environment and build a livable, sustainable global community. Chen's project, "A Green and Novel Technology for Recovering Copper and Wood from Treated Wood Waste—Part 1," stands to serve a dual purpose in environmental stewardship, with the potential to divert millions of tons of wood and copper from landfills, and reduce the need for sourcing new raw materials from natural resources. Chen was one of only two students to be chosen as a speaker during the White House ceremony. Video of the ceremony can be found on the White House's YouTube channel. (Chen is introduced around the 3-minute mark).
Chen, introduced as "one of the most brilliant students here with us today," discusses the importance of young people to "act responsibly in conserving and protecting our planet's natural resources." Managing Director of the White House Council on Environmental Quality Christy Goldfuss highlighted the importance of Chen's research during the ceremony, saying, "It's more important than ever that we find ways to conserve and reuse these resources.. It's so exciting to see our country's teachers and the next generation are working towards these goals today,"  Goldfuss said. "Your work will not only have a major impact on our natural world, but also on our own generation's world, and yes, even your kids' and your grandkids' world — you are our future."
Chen has been able to continue her research at NCSSM with Part 2 of the project, which garnered her awards at the NC Junior Science and Humanities Symposium as well as a finalist position in the Intel International Science and Engineering Fair in Pittsburgh this past May, where she and partner Rohan Patel '17 placed fourth in the environmental engineering category.
Chen's mother, Dr. Lehong Jin, credits the support system and instructors at NCSSM as being instrumental, saying, "Thank you to everyone at the school for helping her along; this has been such a great experience." This summer, Chen is participating in NCSSM's Summer Research Internship Program, working with a research mentor at Duke University before she returns to NCSSM in the fall for her senior year.
Chen, a native of Mecklenburg County, was one of 44 students and 27 teachers from across the country honored during the White House ceremony. PEYA recognizes outstanding environmental projects by K-12 youth and attracts thousands of young people from all 50 states and the U.S. territories to participate. Read more about the winners from the Environmental Protection Agency
Share this post.