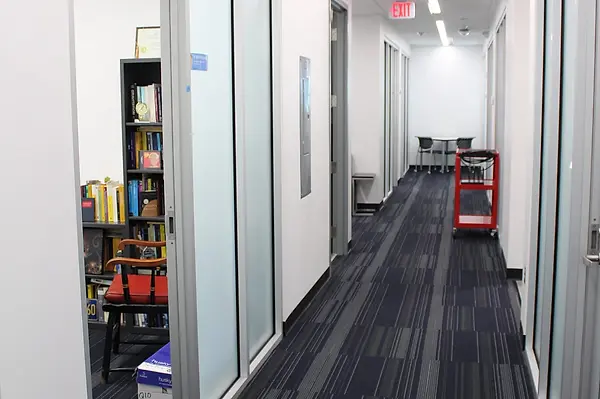 news
Capital improvements continue on Durham campus
Renovations to NCSSM's engineering and technology spaces wrapped up this summer, including this totally updated classroom space.
This summer at NCSSM saw contractors and operations staff at work all over campus, wrapping up projects large and small and beginning some new ones. From new paint and furniture to repairs to the school's HVAC system and updates to the wireless network, virtually every part of the NCSSM campus was improved in some way.
While all of the updates carried out over the summer were much-needed, some of the projects with the most notable impact are the final installation and activation of a new ITS network, the completion of the Engineering and Technology suite, and the beginning of renovations of the entire Physics floor.
Other renovations  were made in the Global Classroom and Music Suite, new technology was added in the Lecture Hall and ETC Auditorium, and we received donations of residence hall and lounge furniture from Duke University.
Network
NC Communications became a common sight at NCSSM beginning in the spring as they worked across campus pulling old wires and running new ones. Virtually every office and classroom on campus was touched by this work, with new lines extended to nearly every living, learning, and work space. From outdated wiring running through ceilings and walls to new connections in offices and classrooms and nearly triple the number of wireless access points, NCSSM now has a faster and more reliable network that will allow students and staff  to work more efficiently and without disruption.
Engineering and Technology
Just as the network upgrade was wrapping up, so too was the renovation to the Engineering and Technology Suite and related classrooms, which began in fall 2016. What was once a structurally and aesthetically outdated space with exposed concrete block walls is now a shiny and brand-new space, contemporary in appearance with a clean, bright office suite with a kitchenette and bathroom, and classroom space one floor below outfitted with storage, lighting, and power sources tailored for NCSSM's engineering courses. These classrooms are joined by a common area with additional storage and a bathroom.
Music
NCSSM's Music Suite got all new flooring over the summer. The commercial-grade carpeting that covered the entire area, from the rehearsal room to offices, has now been replaced with a durable and attractive faux-wood flooring surface. The new flooring will be far easier to maintain, better withstand the high volume of traffic frequenting the space, and allow for much easier movement of musical instruments and equipment from space to space.
Physics
As work to the network and engineering areas wrapped up, the renovation of the entire Physics floor began began picking up steam. Efforts began just after Commencement, with crews moving all furnishings–from chairs and desks to lab tables and equipment–from the area. Soon after, all walls separating spaces on either side of the main hallway were demolished, opening up each space from one end of the floor to the other and exposing plumbing, wiring and heating and air components for needed upgrades as well.
Such significant demolition allows a complete reimagining of the layout of offices, lab spaces, and classrooms. Though the total square footage of the floor will not change, the space will be made far more efficient, with faculty offices centrally located around a small common area, and labs and classrooms strategically grouped together throughout the remainder of the floor. Most notable will be the addition of a third laboratory within the same space. Design plans include lots of glass and metal trim, providing for a contemporary aesthetic.
Renovations of the Physics Floor are expected to last throughout the 2017-2018 academic year. To accommodate instruction during this time, two mobile classrooms have been set up and made ready on the lawn between the Hunt dormitory and the Physical Education Center.
"The projects we've completed this summer, and those that are currently underway, will enhance the living, learning, and working environment for our students, faculty, and staff," says Chancellor Todd Roberts. "We are so grateful for the support of the NC General Assembly, which funded the vast majority of the renovations, as well as the support of private donors and entities who made possible additional updates campuswide."
The next major projects on the list are additional updates to residence halls and bathrooms, updated flooring and windows throughout the school, as well as further upgrades of classroom technology and lab spaces.
Share this post.