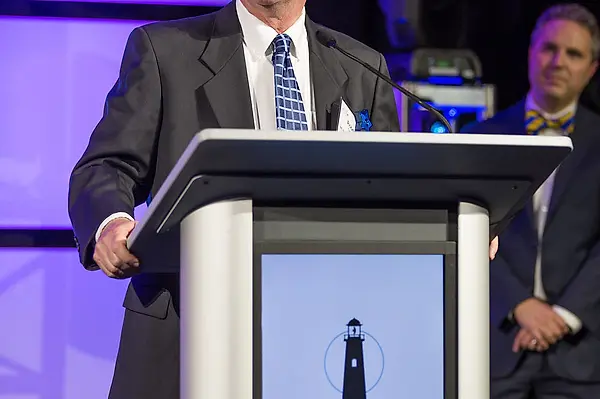 news
Bob Gotwals named Tech Educator of the year by NC Tech Association
Bob Gotwals was named 2017 Technology Educator of the Year by the North Carolina Technology Association.
NCSSM Instructor of Chemistry Bob Gotwals has been named Technology Educator of the Year by North Carolina Technology Association (NCTA). The award was presented at the 2017 NC Tech Awards Gala, held in Durham in November.
The award ceremony, held November 9 at the Sheraton Imperial Hotel in Durham, recognized "the best of North Carolina technology"–organizations and individuals that have demonstrated excellence in technology and business. Gotwals was recognized for his work in developing NCSSM's program in the computational sciences. Other awards included individual awards, small, medium, and large technology corporate awards, technology CEO of the year, and more. Nearly 700 were in attendance, including NCSSM Chancellor Todd Roberts and Vice Chancellor for Distance Education and Extended Programs Melissa Thibault, who represented NCSSM at the annual event.
Award winners were chosen from a pool of nominations, by a selection committee made up of non-profit, media, education, and technology leaders representing various regions of the state.
During his acceptance remarks, Gotwals shared his thoughts on the importance of technology education, saying, "Investing in tech education is not just good for students, but also for industry." He also thanked the commercial software vendors, including Gaussian, Schrodinger, and Optibrium, who have provided substantial computing resources for use in the computational science program.
Gotwals has been instrumental in building this robust computational sciences program, which benefits students in both NCSSM's residential and Online programs, as well as students far beyond NCSSM. Chancellor Roberts thanked Gotwals for his remarkable contributions, saying, "Congratulations Bob Gotwals, NC Tech Educator of the Year! Very proud of his work at NCSSM and across the state and nation. Thank you Bob!"
Read more: Bob Gotwals: Sharing the rich alchemy of computing, science, and discovery
Tom Williams, chair of the NCSSM Board of Trustees, offered his congratulations to Gotwals, saying, "This award, like the others you have received, illustrates the exceptional talent our N.C. students have when they are challenged, supported, and led by a totally dedicated and talented faculty member."
Share this post.