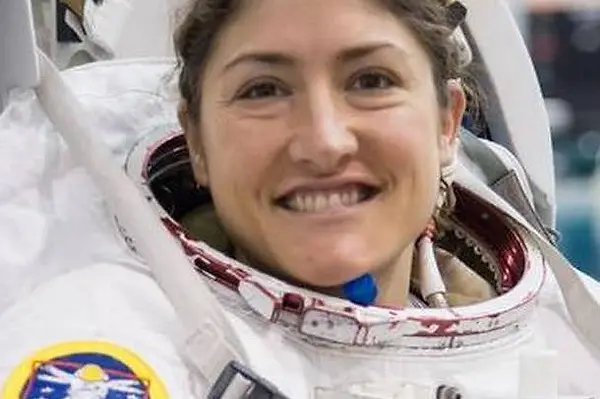 news
Astronaut Christina Hammock Koch '97 followed her own path to space
Christina Hammock Koch '97 (second from left) and fellow astronaut candidates getting their first taste of microgravity during training. Photo courtesy Christina Hammock Koch
Christina Hammock Koch '97 is one of eight graduates in the most recent class of NASA astronauts, the first class in which half of the astronauts are women. 

Christina Hammock Koch '97 visited the Museum of Natural Sciences in Raleigh this past winter to talk with standing-room-only crowds about her path from North Carolina to NASA astronaut. She credits much of her success to her education, both at NCSSM and NC State University, where she completed her undergraduate and graduate degrees in electrical engineering and physics, as well as her decision early on to follow her own path to achieve her goals.
Koch has dreamed about space since she was a little girl—her walls were covered with posters of space shuttles alongside New Kids on the Block, she said in a recent interview. But she didn't want to take a prescribed path to get there, simply checking off boxes as she worked her way through a list of requirements. Instead, her journey to NASA was one based on passion and inspiration entirely her own.
Koch has always loved wide-open spaces—the ocean, the night sky, "anything that made me feel small," she says. She learned to sail with her father and would look out at the ocean to "think about the vastness of the universe." 
"How many of you have ever wanted to be an astronaut?" she often asks groups she speaks with. Invariably lots of hands shoot up. Those numbers go down as she narrows the field, asking how many still wanted to be an astronaut by the time they were in middle school, high school, college. "Most of you probably figured out how ridiculous that idea was by the time you got to middle school," she laughs. "Well, I never did, I kept right on wanting to be an astronaut." No one discouraged her, "and my stubbornness ended up paying off and I got fortunate enough to be able to represent everyone when I hopefully do go into space one day as a NASA astronaut."
By the time Koch got to high school, "I was fortunate enough to be able to go to North Carolina School of Science and Mathematics," where, frankly, she was pretty intimidated, she remembers. "Everyone around me was really smart, they were from fancy places like Charlotte or Raleigh," says Koch, who hails from Jacksonville, NC. But she learned an important lesson at NCSSM. "This was the first time I got a taste of something that I've tried to hold onto: using intimidation or feeling scared to actually fuel your success, to turn it around and use that as motivation to achieve what you might not have thought was possible before." While at NCSSM, Koch attended space camp at NASA, which included a session on how to become an astronaut, where a list of steps to check off was presented. While she didn't strictly rule out the possibility, she remembers thinking in that moment, "I didn't want to live by a checklist just to get myself into space."
 
Koch has worked in extreme conditions from Antarctica to Greenland. Photo credit: Christina Hammock Koch
Traveling to extremes
From NCSSM, Koch went on to NC State and completed three degrees within five years, walking away with undergraduate degrees in electrical engineering and physics and a master's degree in electrical engineering. She also completed an internship at NASA, which led to a full-time job after graduation as an electrical engineer in the Department of High-Energy Astrophysics. There she worked on instruments for spaceships and the International Space Station.
She decided after some time at NASA that she would take a post as a cryogenics technician at the South Pole. As in, Antarctica. "I absolutely loved it. It felt otherworldly to me," she says. With a team of about 80 people for a year at a time, the South Pole feels an awful lot like space, she says—tough terrain, remote location, temperatures down to -111º F, and months of darkness at a time. The most common question she gets about her time at the South Pole is, "Don't you get depressed?" Her answer is quick and genuine—"No. When you have a sky full of that many stars, absolute darkness, all the stars come out, and you have the Southern Lights, the auroras… I absolutely loved it."
This was her first time living somewhere with auroras, something that to this day serves as one of her major inspirations behind her work and what she does every day. "I fell in love with this phenomenon, the Southern Lights," she says. She would later encounter the auroras of the Northern Lights while working at a research station in Greenland. Now, her dream is to see the auroras from space.
Achieving dreams, pursuing passions
After Koch completed her time in Antarctica, she felt a bit of a tug back toward NASA. Applications were open for a new class of astronauts, but one thing she hadn't yet accomplished was to create something all the way from inception to final design, the "space gadgets," or scientific instruments for space that she had worked on as an electrical engineer. So she went back to NASA, this time to work with Space Science Missions. "It was great to see something to fruition," she says of watching the instruments she had created launch into space. They are on their way to Jupiter and will arrive this year to begin sending data back to Earth.
Achieving one dream, Koch continued to pursue a number of her other passions, one of which was rock climbing. That training turned out to be very important later. When rock climbing, especially lead climbing, a style with no rope above you to catch you if you fall, you have to learn how to protect yourself from falling as you go. "It taught me something really important," Koch says. "You can rely on yourself to get out of situations when they are quite frankly scary, and with enough focus and enough confidence you can actually overcome obstacles.
"Interestingly, the one thing the [NASA] interview committee wanted to talk to me the most about wasn't electrical engineering, it was about rock climbing, and working in Antarctica, and all these other experiences that I had that were part of my path to get there," Koch says of interviewing to be an astronaut. This, she says, really speaks to the importance of following your own path. Sailing and rock climbing were things she explored because she was passionate about them, not to fill her resume, but in the end those activities and experiences greatly boosted her career. 
NASA's 21st class of astronauts pose with an Orion capsule. Back row, left to right: Tyler (Nick) Hague, Jessica Meir, Christina Hammock Koch, Nicole Mann, Victor Glover. Front row, left to right: Andrew Morgan, Anne McClain, Josh Cassada. Photo credit: NASA
A roundabout path to Houston
After stints at Summit Station in Greenland, where Koch worked on "hard, awesome science" with a team of only five people, she took a post in Alaska, where she heard the call for astronauts and decided it was time to apply. "So there I was, in my living room, 500 miles north of the Arctic Circle, and I hit submit on my application." Then she put it out of her mind, knowing that over 6,000 others had also applied.
By the time she got a call and began the interview process for NASA, Koch was on to her next position, this time in the tropics, as station chief for the National Oceanic and Atmospheric Administration (NOAA) in American Samoa. "I think I may have been the only person to travel from the middle of the South Pacific, where there only two flights per week, to fly to Houston for a week of interviews," she laughs. The interviews were "no joke," she says, but sure enough, a short while later, she received a call from NASA. "I was speechless," she says. "It wasn't until about an hour later that it kind of hit me." Three months later, she was standing on a stage at NASA with seven others from very different backgrounds, being welcomed as the NASA's 21st class of NASA astronauts.
"It started feeling a little more real a couple weeks into [training]," she says, recalling an early training experience on a plane dubbed "the vomit comet," which simulates microgravity conditions. From there, it was an intense season of survival training, Navy flight school, learning how to exercise in zero gravity, learning all of the systems on the International Space Station in true-to-life re-creations of the space, and learning Russian. Because the U.S. is currently between space programs (the NASA Space Shuttle program ended in 2011; astronauts are currently training for the Orion program), NASA works with the Russian space program. The first Russian words they learned in training are indicative of the life of an astronaut, Koch recalls—"busy" and "tired." 
 
Astronaut candidates getting their first taste of microgravity during training. Photo courtesy Christina Hammock Koch.
When asked what the most important part of training is, Koch answers matter-of-factly: "Learning how to fix the space toilet!" She's half joking, but she explains that in space, astronauts drink treated urine. The most challenging parts of training, she says, were the spacewalks. Training sessions were held at the bottom of a deep pool at the training center in Houston, wearing full space suits and operating a robotic arm to practice things such as repairs to the space station. A six-hour spacewalk, the standard length of time, is the metabolic equivalent of running a marathon, she says.
But no matter how difficult those spacewalks or other training sessions were, it was all worth it, she says. Being in space, we can "accomplish science that can't be done on Earth."
And of course, Koch has another personal inspiration—the view of the auroras from space. She references a photo taken by a fellow astronaut from the International Space Station of the Northern Lights dancing across the Earth. "Pretty neat, huh?" she says softly. 
Christina Hammock Koch '97 in her space suit during astronaut candidate training. Photo credit: James Blair, NASA
A future mission
Koch and her class of fellow astronauts completed their training in July 2015 as NASA's 21st class, the first class to be made up of half women. She and the others are now qualified for a future mission, as part of the upcoming Orion missions, to the International Space Station or, a place surrounded by much discussion in the world of space exploration, Mars, something Koch says would likely happen around 2035.
Koch says she would be "honored" to go to Mars or on another mission set out by NASA. She doesn't take her role as an astronaut lightly but recognizes the weight of her work. More than just a scientist or an engineer, she is "carrying the hopes and dreams of humanity into space," a phrase she uses with the utmost respect for her fellow scientists and humans in general. She is quick to highlight the work of others that paved the way for her to be able to do what she does, including Sally Ride, the first American woman to go to space. During her internship at NASA, Koch got to meet Ride, something she says was an important moment for her.
Koch highlights the importance of other STEM fields as well, and notes that the world of NASA is changing. In the early classes of astronauts, all of the candidates came from a military background. But no longer. Two members of her class come from a civilian background —her own path starting as an electrical engineer, and an animal physiologist who has studied geese who can fly over the Himalayas and deep-diving penguins. For Koch, this highlights one of her core beliefs: "There are a lot of different ways that your passions can bring you to achieving your dreams." 
Read News & Observer story about Hammock Koch's recent visit to Raleigh
Share this post.