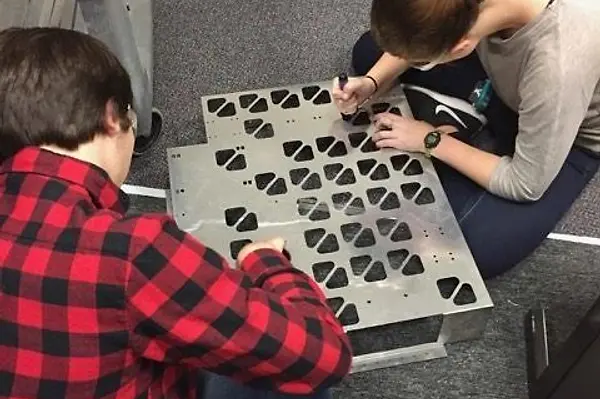 news
As Competition Season Begins, Robotics Team Aims High
The robotics team wraps up build season as they prepare for their first competition of the year.
The Zebracorns, a robotics team composed of students from the North Carolina School of Science and Mathematics and other high schools in the region, kick off their competition season this weekend at the FIRST Chesapeake District Robotics competition.  
But just three weeks ago, there was no robot to be seen in the robotics lab at Northgate Mall, where the Zebracorns—aka Team 900—meet. And yet no one was worried. At that point, "build season," when the students build their real, nuts-and-bolts robot, was just beginning. But they'd been working on a computer version since early January.
"It's deceptive: we go from no robot to suddenly having a design," says mentor Marshall Massengill '05. The group has been vigilantly working with CAD software to develop and fine tune its plans. "The robot gets built there before it becomes real. We can do testing there, virtually, before we build anything."
3D-printing parts for the Steamworks robot.
Once the design is deemed final, it gets sent to the NCSSM FabLab, where the ShopBot turns it into reality. After some fine tuning, the robot is largely ready for the big time.
In this case, the big time is a series of robotics competitions run by FIRST (For Inspiration and Recognition of Science and Technology), an organization that aims to engage young people in science and technology. More than 3,000 teams from all over the world compete in themed tournaments. The teams received details about the season's challenge in early January, and have had six weeks to design their robots. This year's theme is Steamworks, and it requires the robots to deposit gears and green balls into a goal. 
The Zebracorns are planning to do even more. "We also hope the robot will scoop up balls," says Adithya Balaji '17, though he adds that isn't a sure thing.
But the Zebracorns have some secret weapons. First, the team itself: about half of the 35 members come from other area schools or are homeschooled. That's clearly a boon to students from places like Riverside High School or Research Triangle High School, whose robotics teams—if they have them—might not compete at the level of the Zebracorns. "It's totally opened up opportunities for me," says Tyler Laws, a Riverside student who also takes online classes with NCSSM.
Yet the real beneficiary of including students from other schools is the team itself, says Massengill. "We have this kind of institutional memory now," he explains. When only NCSSM students were part of the group, students would leave after two years and the team never made much progress. "But having students who come in for four years and become part of the program for a longer time—things get passed down."
That's reflected in the team's track record, he says, which greatly improved after students from other schools were invited to join.
Another of the Zebracorns' advantages is its collaborative nature, something the judges in FIRST competitions take note of. The team's mentors—people like Massengill and Kevin Jaget '91—devote dozens of hours to the team every week for little pay.
And the team itself is generous with its time; members visit local elementary schools to generate enthusiasm in robotics, and conduct workshops for middle school girls to build enthusiasm about science and engineering. 
All of that could pay off big for the Zebracorns this year. Team members decided to apply for the Chairman's Award, the most prestigious prize available to FIRST teams. That meant writing a 10,000 character essay outlining the team's accomplishments—including its outreach and assistance to others—as well as creating a video and preparing a live, ten-minute presentation.
The essay and video were submitted in February, and the Zebracorns say they have no idea if they'll win. But mentor Charlie Buckner, who's been with the team since it started in 2002, believes they have as good a chance as anyone. "This team is by far the leader of the FIRST community," he says. 
Maybe. For now, though, the students are preoccupied with the important task at hand: taking on their first competition of the season this weekend in Blacksburg, Virginia.
Follow along with the team this weekend via Livestream: https://livestream.com/LeeHartman/SWVAEvent
Share this post.