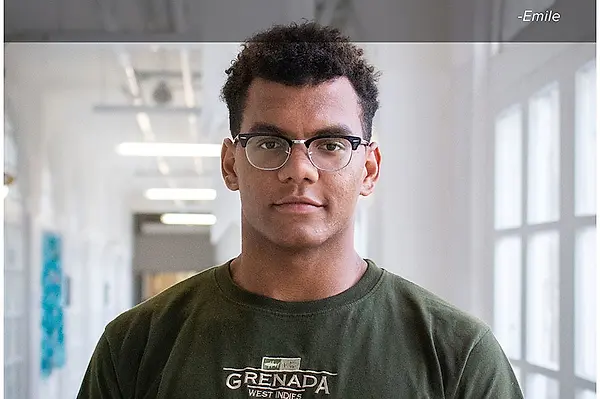 news
Amplify! student photo project shares voices of young voters
The project's student leadership team after putting up photos in the lobby of Durham's City Hall; one of the student portraits.
If you walk down Alley 26 from Chapel Hill Street, across from the post office in downtown Durham, you'll encounter five-foot-tall portraits of young people displayed along one of the alley's old brick walls. The top of each photograph features a quote from the person pictured.   "'The biggest concern about the present is the lack of compassion, empathy, and understanding that exists…' — Emile," reads the text on a photo of a serious-faced young man standing in NCSSM's Alumni Hall.   This is "Amplify! Youth Voices and the Future," a new photography project featuring the portraits and words of students and recent graduates of the North Carolina School of Science and Mathematics. The collaboration between NCSSM and the City of Durham's Public Art Program officially opened Oct. 19 as part of Durham's Third Friday art walk.   The non-partisan project seeks to promote civic engagement, amplify the voices of young people, and offer the community a view of the priorities and concerns of these soon-to-be first-time voters.   "I see this as an opportunity to inspire people," says senior Emile Charles, a member of the project's student leadership team. The group doesn't want their voices to be associated with any particular political affiliation, he emphasizes. Rather, they aim to get students' voices heard, to show what issues are on young people's minds.   For senior Lindsey Mancini, the most important part of the project is having older generations learn what matters to youth now. "We care about some things that older generations haven't had to care about. They didn't face quite the same problems that we'll be facing in our futures," she says. Students mentioned their concerns about the environment, health care, and education, among many other topics.   Amplify! received a matching grant from the city as well as funding from several local businesses, and on Nov. 5, Mayor Steve Schewel will recognize the students at a City Council meeting.   The project was a natural way to create collaboration between NCSSM and the city, says Liz Peeples, a NCSSM humanities instructor and leader of the project team, who partnered with Stacey Poston, special projects manager with the City of Durham's General Services Department.   "Ideally, seeing faces and words of future leaders will engage residents about how to widen our own compassion and validate more voices in conversations about the future," Peeples says.   In her hometown of Hendersonville, N.C., senior Anna Yokote, also a member of the leadership team, says that she always felt like she was in a "between place." Coming from a low-income family and often finding herself the only Asian student in her classes, she wasn't always comfortable sharing her experience and perspective. However, that has changed since coming to NCSSM, she says. She has found the confidence to share her experiences and wants the same for other people.   "You can have an impact on many lives just by taking the initiative to step up," she says.   Earlier this fall, photographers Kim Gray and Logan LaBo photographed the 23 students featured in the portraits. Taylor Cashdan of Raleigh was the project's graphic designer. The complete set of photos will hang in NCSSM's Educational Technology Complex Lobby beginning with an opening reception on Nov. 8. A selection of eight are already on display in Alley 26, and a different set of smaller prints are up in the lobby of Durham's City Hall.   The combination of photos and words makes Amplify! powerful and thought-provoking, says Emile.   "What I love about the portraits is people can look into the eyes of these students and see that they cared about something and went out and did something about it," he says, "and hopefully, this will empower other people to do the same."   During the openings at Alley 26 and NCSSM, community members can get involved by answering the same questions posed to the students: Why does voting matter? Why does your voice matter? To draw in more voices, the students will invite exhibit viewers to answer these questions on a white board and then take a photo with their response, or to add their thoughts to an idea board using a sticky note.The students plan to share the community photo campaign on the
website
they've created, which also contains the official portraits and additional resources on civic engagement.   "What I really hope from this project," says Anna Yokote, "is that people find the confidence to step forward and act upon the issues that they care about."    
The NCSSM student leadership team is seniors Marco Allen, Emile Charles, Leo Jimenez, Lindsey Mancini, Rachel Niemara, Abdul-Rakeem Yakubu, and Anna Yokote.
Amplify! received funding from 
Austin Lawrence Partners
, Alley Twenty-Six, 
Downtown Durham Inc.
,
Eno Ventures
, and
Bootstrap Advisors
, as well as the
NCSSM Fine Arts Series
, NCSSM Student Life, and the 
NCSSM Foundation
.
Share this post.