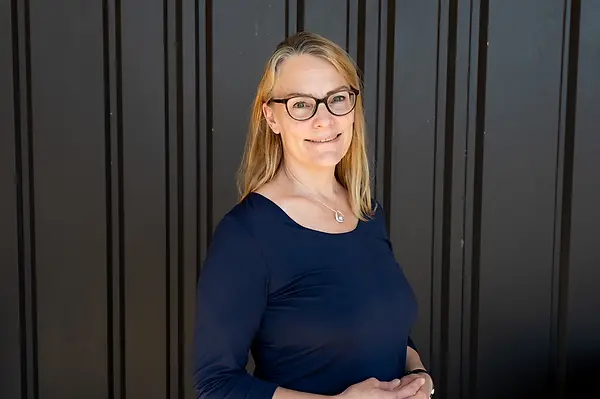 news
Alumna returns to NCSSM classroom after more than three decades away
Rachel Rueckeis '88 is still unsettled sometimes by all the English being spoken around her, even though it's the Chapel Hill native's first language. Since finishing graduate school at Stanford in 1996, Rueckeis had been in Berlin, raising a family with her German husband and teaching physics to students from middle school through high school.
Now, after spending more than half of her life in a diverse European city of millions, Rueckeis is settling back into small town life at her new professional home at NCSSM-Morganton in the foothills of the South Mountains, where she's teaching physics. If all goes well, her husband, who is still working and managing the family home in Berlin along with their youngest child, will join her in time. Her three oldest children were already in the states.
"I always kind of knew that at some point I wanted to come back home," she says, "and I knew that if I did, NCSSM was the only place I'd want to work."
Though she has – for now – had to leave part of her family behind in Germany, it's also family that brought Rueckeis back to North Carolina. Her mom, who first told her about NCSSM-Durham when Rueckeis was a teen, still lives in Chapel Hill, and after so many years away, having successfully raised her own family with her husband and having built a career as a teacher, Rueckeis felt now was the time to finally come back to North Carolina and be a daughter once again.
"My children are all grown up now, and so I wanted to come back and enjoy being with my own mother more," she says.
Finding one's self
Like many NCSSM alumni, it wasn't until reaching NCSSM as a teenager that Rueckeis finally felt comfortable in her own skin.
"I didn't have a whole lot of friends at my old high school," she says. "I think I never really fit in. I was just a nerd; I was odd. But at NCSSM, I felt like a freshman in college. I made a whole bunch of new friends really fast, and they were people with similar interests, and I was like, 'Okay, I'm totally normal.' That was really, really wonderful for me."
Still, it was the academic opportunities available to Rueckeis at NCSSM that drove her decision to apply. Courses in anatomy, physiology, chemistry, and biology were appealing, but the offerings in math most inspired her application. A quick review of the math curriculum at her home high school revealed that, by the end of her junior year, she would have exhausted the available courses.
What Rueckeis wasn't expecting was to fall in love with physics at NCSSM-Durham. The discipline offered explanations (and sometimes theories) for "why the universe is the way it is" and it stimulated in her a deep curiosity about the world around her. Even today, Rueckeis says, her mind is often buzzing outside work hours with silent narratives explaining the what and why and how of daily life. Sometimes, she gives voice to those narratives.
"I drive my family crazy," she says. "I'm like, 'Oh, do you want to know why this is so cool? Do you want to know what's sort of weird about that? Do you want to know why that happened?' And they're like, 'No. Leave me alone.'"
Rueckeis' decades-long fascination with the laws and theories of the physical world had a less than auspicious beginning. "I loved that physics tries to explain everything that you observe, and tries to fit it into mathematical laws, but I remember it being super, super, super hard for me and feeling like I didn't know anything on my first physics test," she says. "I thought I was terrible at physics, then realized that actually, after some encouragement from my teachers, I wasn't bad at it at all."
By the time she left NCSSM, she had taken not only NCSSM's physics core, but courses such as astrophysics and advanced modern physics where she learned about Newtonian mechanics and relativity theory and quantum mechanics. A career path was uncertain at that point, but by the end of graduate school, she knew she'd be sharing her love of science with others in a classroom.
Now that passion has led her back to North Carolina, where it's not just hearing English as a matter of course that Rueckeis is adjusting to. She's reacquainting herself with conversations with strangers in line at the grocery store (Germans are very kind, she says, but a bit more reserved than small-town North Carolinians) and, specific to her work at NCSSM-Morganton, regularly using technology as teaching aids in the classroom. While smart boards and laptops are common in German classrooms, online organizational tools such as Canvas are not used as frequently, with assignments, quizzes, and syllabi in many cases still a paper and pencil endeavor.
Too, Rueckeis is learning to accommodate students who come to her classroom with varied backgrounds in science. In Germany, she often had students from seventh through twelfth grades, so she knew the background and skills they'd developed along the way. Here in the states, the resources vary so widely from district to district and school to school that there is quite a wide range of initial competency among students on the first day of class at NCSSM. "But all the kids here are super bright, no matter where they're coming from," she says, "and so they eventually get to a level playing field."
Home again
Rueckeis stayed in touch with NCSSM down through the years on visits home, always aware in the back of her mind that one day she'd be back and she'd need to find a teaching job. Ideally, she'd hoped for a position at NCSSM-Durham since it's only a few miles away from her mother in Chapel Hill, but when she found out about the new campus in Morganton, she knew they'd be assembling an entire faculty from scratch. She had her resume waiting.
Turns out that maybe NCSSM-Morganton is exactly what Rueckeis needed. After nearly three decades in established German schools, getting the chance to be part of a brand-new venture in Morganton was almost like starting over again, but in a good way. "This is a new campus, and so everything is super exciting. It's not all set in stone yet. I'm getting to participate in deciding how we are going to do things, and everyone is eager to hear any ideas that are put out there."
And of course, there's that sense of having come full circle. Though not on the campus where she went to school, her students are still NCSSM students, and they are having the same experience Rueckeis had when she left home at an early age to try on something, and somewhere, new. "It's been about 35 years since I was an NCSSM student," she says, "but how it is for them is how it was for me. And I wouldn't want to be anywhere else now. I've always loved NCSSM so much. It's my dream job."