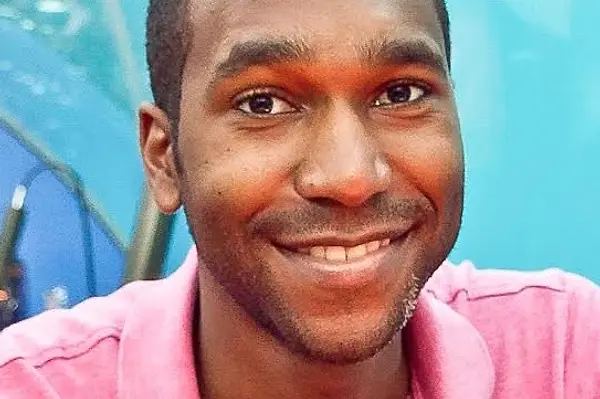 news
Alumnus launches website to guide free and low-cost travel
Jonathan Hayes '03 dines at an underwater restaurant in the Maldives during his honeymoon. That five-star vacation, which cost him and his wife less than $400, gave him the idea of building his website business, Rewardstock.com.
Two years ago, an "amazing" honeymoon — first-class flights, eight nights in a luxury resort — inspired Jonathan Hayes '03 to create RewardStock.com. Hayes had recently moved back home to North Carolina after seven years in Manhattan, working on Wall Street, and college at Princeton. He and his new wife enjoyed the services of a personal chef on a 16-hour flight, then spent the week in the Maldives, a string of islands in South Asia. Total price tag for their trip: $200 each, thanks to using their credit card reward points.
"Our honeymoon was the most incredible trip I've ever taken," Hayes says. "But there's nothing special about us that allowed us to do it so cheaply. We just knew how. We earned all our points for the trip in the six months leading up to it, that was just our financing strategy. We'd get bonus points for signing up for certain accounts. We were paying for our wedding expenses, so we really racked up points. And by understanding all the rules that govern the point programs, we could optimize our points. Ten points in one program can turn into 20 points in another."
Hayes says it took him about three weeks to work out his points strategy, manually, to get his honeymoon for next to nothing. It would be great to have a website that does the calculations and strategy for you, he thought — so that's what he set out to build. By the end of 2015 he had created a prototype, attracted a few investors, and hired a few people — and he's been building Rewardstock ever since.
"We went live with the beta site at the end of January, and we're up to about 1,200 users now and in the process of fixing bugs and updates," Hayes says.
Using points has been the only way Hayes has traveled the last five years. For their one-year anniversary, he and his wife flew to Turkey and spent six nights in a five-star hotel for $75. Their second-anniversary trip to Paris cost them about $100.
But he wasn't always a believer. "I used to be one of those people who said it's not going to be worth my time even to give my frequent flyer number," he says. "But people don't understand that amazing life experiences are possible. If you're not being smart about your points, you're just leaving money on the table."
Rewardstock translates various frequent-flyer reward points into actual dollar values, like shares of stocks. "Every program is different, that's one of the benefits we're trying to bake into the program, to make it personal for you. You might have a bunch of Delta miles versus British Airways miles. Each airline is connected to its own alliance, meaning they have a different group of partners flying to different countries, and they have their own rules. We've built a portfolio maximation algorithm to tell you, 'Here's your best path to get from here to there.' We focus on flights and hotels."
Hayes is building the site on an advertising model. "If you have no points at all and you want to go to Hawaii next year, we'll show you the best way. And then we can link to, say, a card that gives you 50,000 miles right off the bat."
The flexibility of running his own company and the variety of daily challenges faced by start-ups suit Hayes. "It's a much better lifestyle. When I worked on Wall Street, no matter how senior you are, you have no control or predictability of your personal schedule. Here, when my wife was pregnant [the couple has a baby girl now], I could go to all her doctor appointments and see all of her ultrasounds.
"The experience enriches you as a person, because every day you're trying to understand your audience, the problems that people are trying to solve, and the best way to help them. I feel fortunate to be in this process."
Hayes appreciates his NCSSM high school education, which he calls his "launchpad" for studying at Princeton and working on Wall Street. Fellow alumni entrepreneurs in the Triangle area have helped him, his says. And recently, when he gave a presentation in the Triangle area to an audience of investors and business people, a man stood up to tell him it was nice to see North Carolina's investment in NCSSM paying off with alumni entrepreneurs like him.
Share this post.