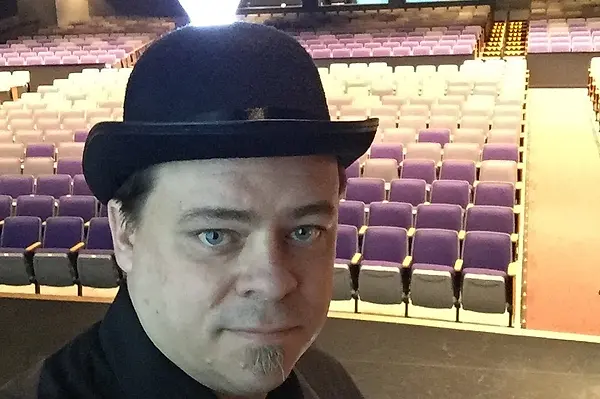 news
Alumnus Infuses Passion for Life into Teaching Accelerator
Jason Lineberger '90 (far left) poses with one of his two bands
Jason Lineberger '90 has lot of interests that keep him busy. NCSSM happens to be one. Another is gaming. This summer he is combining the two in an Accelerator class he is teaching called Breaking Reality: The Utility of Games in the Virtual and Physical World. Part of the course will be taught online, and part will be taught face-to-face.
"One of the things I'm very into right now is games, traditional tabletop games and experiential real-world games," Lineberger says. "These classes are all about the science behind games, the psychology behind games, the history."
Students in the course will experience a wide variety of games: social games, board games, European-style tabletop games, word games, virtual and augmented reality games, trivia games, math games, online games, and video games.
"We're going to explore games from so many levels and really start thinking about how we might leverage games to create real change in the world," Lineberger says.
The change Lineberger is referring to is built around research into the ratio of positive-to-negative interactions in any given situation, and how that ratio affects one's sense of happiness and fulfilment. The lower the ratio of positive to negative, the less likely one will be to seek out a particular activity or place. To explain, Lineberger points to a social, real-world game called Cruel 2 B Kind. Players in the game eliminate opponents with "weapons" such as a serenade, a compliment, or a group cheer.
In the course, the students not only research and play a variety of games like this, but create and play-test games they've designed to positively impact society.
Discovering and crafting his future
Lineberger's involvement in NCSSM's distance learning initiatives, as well as his current full-time career as Digital Learning Coordinator for Cleveland County Schools in Shelby, NC, reflects a mutual but evolving interest in nontraditional ways of learning, particularly in the digital environment.
A graduate of NCSSM himself, Lineberger reflects that upon arriving at NCSSM as a student, he was certain that math was his strength. An English teacher in his junior year named Michael Matros inspired him to consider a future as an English teacher.
"Just watching him do his job," recalls Lineberger, "and how much he enjoyed being in that class, made me start thinking about being a teacher, and maybe teaching English."
After college, Lineberger began teaching English full-time in the traditional classroom at Shelby High School, where he remained for for 14 years. He also taught part time at Gardner-Webb for an equal amount of years. In addition to these roles, he found time to teach and develop courses for North Carolina Virtual Public Schools and work as an educational consultant for various organizations, including UNC-TV.
By 2014 he was so engaged in digital and online learning that he was named by PBS as one of 100 Digital Innovators throughout the country, were recognized for their "passion and commitment to innovative teaching practices that integrate digital media and technology in the classroom."
"One of the things I like," says Lineberger of digital learning platforms, "is that, in the online environment, I can more purposefully craft the student experience, whereas my face-to-face presentation is pretty improvisational."
Digital and online learning offers a flexibility that Lineberger finds especially interesting. As an example, Lineberger points to several recent students of his who combined online, face-to-face, and community college courses in such a way that it bore little-to-no resemblance to the traditional high school experience, while also allowing them the opportunity to pursue other areas of interest outside of academics. One student was even able to restructure her time so that she was able to work on a farm during the day.
"It's just amazing," Lineberger says, "that we can offer students the opportunity to change their schedule away from the traditional model to something that more suits them."
On stage and in the field
While teaching is the core of Lineberger's career, he's also committed to hobbies like music and paintball. He sees as many live music acts as he can, and is also the live act as a member of two bands–a ukulele party band called The Dancing Fleas, and a new feminist punk rock band called Cubby, in which his 19-year-old daughter is the lead singer.
He's active in the paintball community as well. The sport has taken him all over the country, both as a participant in "scenario paintball,' in which large numbers of players assume roles in games that cover acres of land and could last an entire weekend, and as a producer of such games.
"I was immediately drawn into it," Lineberger says of his introduction to the sport. "It's an insane rush of adrenaline when a projectile goes by your head at 200 miles per hour. Seventeen years later I still get that rush." Lineberger still plays often, and will be coaching a paintball camp this summer.
Fully engaged
Lineberger is most definitely driven by his passions, and from them he has found a way to craft a meaningful life. "I think I am. . . exuberant," he says to explain his various interests. "Willing, maybe."
And underlying it all is a passion for people.
"I love teaching and I love performing and I love being around energized people," Lineberger says. "That's one of the things I love about coming to Durham [to teach in the Accelerator program at NCSSM]. Working with those kids, they get me very pumped up."