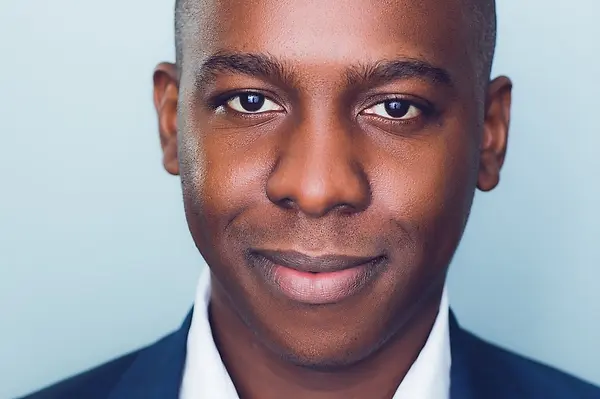 news
Alumnus follows heart from ground floor classroom to Broadway
2011 graduate Lamar Richardson is making a name for himself on and off the stage.
The stage lights of Broadway are a mile away from Lamar Richardson's original career designs on Wall Street. The 2011 NCSSM alumnus was landing impressive corporate internships while still a student at Columbia University. But two unanticipated – and transformative – experiences years apart combined to change the course of his life. The first occurred in a basement classroom at NCSSM. The second, in an actor's studio in New York City. And now, he's completed his debut as a co-producer – of the acclaimed revival of Arthur Miller's "Death of a Salesman," which just wrapped at Broadway's Hudson Theatre. Before all that, though, Richardson was a "math fanatic" who came to NCSSM-Durham from Independence High School in Charlotte. At NCSSM he briefly entertained thoughts of becoming a math professor, but by the time he'd hit college, his interests had shifted to law, and then business, before he finally graduated from Columbia with a psychology degree. Tamar Avineri, Interim Dean of Mathematics at NCSSM-Durham, came to know Richardson well. His love of numbers often led him to her office after class.
"I have incredibly fond memories of getting to know him and seeing his incredible talents, but also his unbounded work ethic," she says. "He was such a model student. Not only did he have talent and ability, he was just thirsty for learning. I don't remember ever having a conversation with him about his grades. It was always about understanding the content at a deep level. And he balanced his incredible talent with a genuine humility."
Alongside Richardson's more practical interests was, he says, an ever-present "artsy flair." He was in plays at church as a kid. At home he created characters of his own or imitated scenes from TV and movies. But it was all in fun for a quick-to-laugh, charismatic guy who enjoyed the attention his personality garnered.
In the middle of it all, Richardson goofs with his hallmates from NCSSM's 2nd East (Hunt) dormitory.
A moment in NCSSM's American Studies class with longtime humanities instructors Elizabeth Moose and Kyle Hudson during Richardson's junior year of high school, however, planted itself in his psyche. It was, Richardson said, a "pivotal" moment that would not fully manifest for three more years.
The class was studying Zora Neale Hurston's classic novel, "Their Eyes Were Watching God," reading passages aloud so they might feel more deeply the significance of the words. Richardson was given the role of Jody Sparks, the second husband of the novel's protagonist.
"I got so into it," Richardson says. "I really put on, you know, the intonation and all of that. And you know, by the end, everyone, like, burst into applause, and Ms. Moose said, 'Oh, Lamar, you have a gift!' Every time we've talked in the years since, I always tell her, you know, that was a seed among many seeds along the way that got me to where I am today. I'll never forget it, you know?"
Though 13 years and thousands of classroom hours ago, Moose, now Dean of Humanities, recalls the moment clearly, though she deflects any praise, putting the moment entirely back on Richardson's shoulders.
"Yes, we gave him the opportunity to read aloud, but he's the one who did it," Moose says. "He caught fire. The character in the scene he was reading, Jody Sparks, is wonderful with words and he's always rocking back on his toes and saying things like 'I God!' meaning 'My God.' Lamar just started reading, and he let it rip. He caught fire. He didn't hold back. And we all just – whomp – all eyes on him. So, when he wrote me years later to tell me he was an actor, I was like, 'I God! Look at you!'"
Despite the accolades from Moose and his peers, it was – aside from his usual dramatic shenanigans for friends – the first and last time Richardson performed in a dramatic role at NCSSM.
By his sophomore year at Columbia, Richardson was well on his way to a corporate career. His flair for the dramatic had drawn him into the university's theater productions as an extracurricular activity, but already he was lining up summer internships in the starched white-collar world. Still, that artsy personality was shining through. It took a fellow team member of a MetLife group sales internship his sophomore summer to point out the obvious to Richardson.
"She was like, 'You know, you have too much charisma; what are you doing in insurance? You should be in entertainment,'" Richardson recalls. "For a split second, part of me went into defense mode. I was like, 'What's that supposed to mean? I can be professional.' But then the other side was like, hmm, maybe she's onto something here. Maybe this is something to investigate."
Richardson's run on "Ma Rainey's Black Bottom" led to an invitation to appear as a guest at the NAACP Image Awards.
The investigation led to work as an extra on television and film productions. He even found his way into HBO's "Boardwalk Empire." Still, he continued toward what he assumed would be an eventual corporate position. The fall of his junior year he did a finance and operations bootcamp at Barclays Investment Bank. At the end of the camp, participants were interviewed for a $10,000 scholarship and an operations internship the following summer. Oddly enough, the interview included something akin to a talent show. Richardson did a step routine.
"Everyone burst out into applause," he says. "And again, it was that same kind of thing of, 'Oh, people find me entertaining, people are intrigued by this, they are drawn to my personality.' Things that I never really gave a second thought to, others were pulling out of me."
That's true, Avineri says. In every class of hers Richardson was in at NCSSM, his classmates gravitated toward him. "He didn't ask to be the center of attention. It was not the Lamar show. But he was so positive, so optimistic, so funny, that his peers just wanted to be around him. You could tell they loved his company. That's who he is. He didn't have to try."
Being himself won Richardson the Barclays scholarship and the internship. But the memory of the applause was still ringing in his ears. "I turned it all down," he says. "I had decided I would spend the rest of my time in school pursuing an acting career."
Though he was training in theater courses at Columbia, there wasn't enough time before graduation for Richardson to complete a theater degree. What he did have under his belt was a load of psychology courses. That's the degree he holds today.
Achieving financial independence as a young actor is hard, though. Richardson stuck around New York City after college, punching the clock in real estate till he found work assisting acting coaches. Along the way he scheduled as many auditions as he could, landing a number of roles in small productions.
A gig assisting the esteemed acting coach and life member of the Actors Studio, Susan Batson, led to the break Richardson had longed for. But much like his turn toward the arts, he never saw this coming, either.
Phylicia Rashad, the Tony Award-winning actor beloved by millions for her role as Clair Huxtable on "The Cosby Show," was in Batson's NYC studio, doing a screenplay reading for potential investors and producers interested in a project in which she was set to star. Richardson, being onsite with some acting chops, was asked to lend a hand by reading one of the roles.
For two days Richardson rehearsed alongside Rashad. On the third day – his 23rd birthday – came the reading. Richardson basked that evening in having worked alongside an iconic star, if only for three days.
The next day, his phone rang. It was Rashad.
"That was surreal," Richardson says. "I mean, truly, you can't make this stuff up. So basically, the long and short of it is she told me she was going to be directing [August Wilson's play] 'Ma Rainey's Black Bottom' the following year in LA and asked me if I had ever read it. I said no. She asked me to read it and to have a look at the part she wanted me to be considered for. Immediately, on my lunch break, I went out and bought it and read it that same day and sent her an email saying, 'Oh, I love the play, I love the part. I'd love to be considered for it, yada yada, yada.' Five months later I got an email that said, 'Dear Lamar, Mrs. Rashad would like to offer you the role of Sylvester in Ma Rainey's Black Bottom.' And that… was… that."
Richardson's break came when he landed the role of Sylvester in "Ma Rainey's Black Bottom."
The play was set to run six weeks, with four weeks of rehearsal. Richardson arrived in LA with plans to return soon after the show wrapped. But he didn't.
Ten years later, Richardson had built an impressive resume of film, television, and stage projects (Charlie Sanders and Jordan Peele's anthology series, "Weird City," James Sweeney's film, "Straight Up," CBS's "FBI," and "New Amsterdam" on NBC, among others) and an extensive network of industry insiders. Producing began to pique his interest. He cast around for opportunities to try his hand at that part of production – "shooting blindly in the dark," he describes his inquiries – "and [Arthur Miller's] 'Death of a Salesman' came along." The play, starring Wendell Pierce as Willy Loman, has been hailed as groundbreaking for its first-ever all-Black cast.
Producers are involved in nearly every part of bringing a piece to life. From assisting with the script to finding talent and financial backing to managing budgets to making sure folks show up on time for rehearsal, it can be an intense experience. The ability to switch gears instantly is a must. "I was hesitant, nervous, worried, scared about being able to make it happen," Richardson says. "And now here we are. Here we are."
Indeed, says Moose. "I'm thrilled for him that he found his passion and his talent. How wonderfully lucky we all are."
Richardson is now back at Columbia University, where he's immersed in the year-long Front Row Fellowship, a collaboration between Columbia and NYC-based Front Row Productions designed to help promising producers of color advance their careers on Broadway. As a fellow, Richardson will have access to a wide range of contacts, courses, and mentoring programs all geared toward helping him bring a project of his own to the stage. It also came with a $20,000 production budget and a $10,000 stipend; an amount he couldn't turn down this time around.
The future, Richardson says, is probably a hybrid of all that he has done to date. As an actor, his heart is in theater but he's equally eager for chances at good roles in film and television. Producing is also a great card to have up his sleeve. Whatever comes his way, Richardson will be grateful.
"There's this quote that says, you know, life gives you the test first and the lesson afterwards," he says. "When I look back at all of these years, I'm just so amazed by all the things that I've done in terms of, you know, all the jobs I've had just to get by, all the people I've met, all the places I've lived. I mean, honestly, it's really quite something and I think, you know, for me, it had to happen that way. All this life experience that I've accrued, and all these different roles I've played and occupations I've had, it's made me who I am."
So, too, did NCSSM. "It was a great time in my life," he says of his two years in Durham. "Science and Math is a one-of-a kind experience, and I'm so fortunate to have had it because it matured me and set me up on an expedited fast track. That experience allowed me to be able to be so flexible, to be able to say, 'Hey, I'm going to move to New York and be an actor, I'm going to move to LA and be an actor, I'm going to come back and get into producing.' And I think because I was challenged in those classrooms, you know, working alongside the best of the best, I'm now no longer afraid of anything."