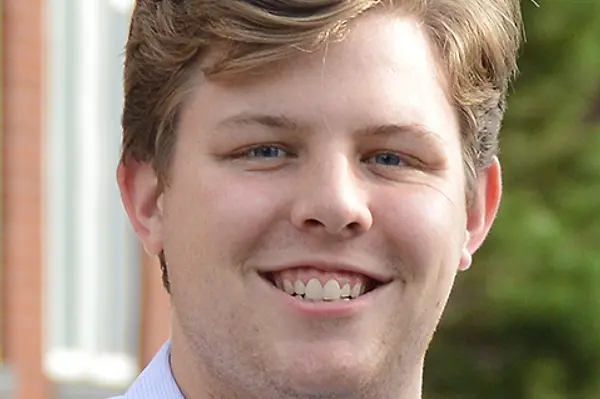 news
Alumnus creates EmployUs to match seekers, jobs
Organizing a record-setting food drive for NCSSM was just the first step for Ryan O'Donnell '11. Now the High Point native and NC State grad wants to connect job seekers and employers through a referral app.
By Steven Norton '08
Ryan O'Donnell got the start-up bug in 2011 as a high school student when he helped lead NCSSM's Guinness World Record-winning food drive that pulled in nearly 600,000 pounds of food in 18 hours.
Yet for all the food drive's success, he wanted to make a greater impact. The school gathered more than half a million pounds of food, "but all of that food is basically gone in 18 hours," O'Donnell says. "You think about the scale of the problem we're trying to tackle, and even how minuscule the world record attempt was."
As an undergraduate at North Carolina State University, O'Donnell thought bigger. He cofounded Pennies 4 Progress, a start-up that allowed people to donate to their favorite causes when they shopped in stores or online. He exited the firm during his senior year, but by then Pennies 4 Progress reached a national scale, raised money for more than 60,000 schools and non-profits, and included thousands of merchants and customers.  
While the start-up found a good way to move funds where they are needed, O'Donnell said he grew increasingly curious about how human capital could improve peoples' lives. He sensed an underlying frustration with how job seekers get work, he said, and he wanted to help match talented people with the jobs that best fit them.
To do it, O'Donnell and former Manpower CEO Jeff Stocks founded EmployUs in July 2014. Betting on the power of employee referrals, the EmployUs team designed a mobile app that pairs job seekers with employers hiring new talent. The app rewards users for recommending people in their network for jobs and gives employers a way to identify potential employees on demand. 
Currently one in five job seekers gets hired, O'Donnell says. Participating employers include Citrix Systems and Raleigh-based First Citizens Bank. 
In December, EmployUs announced that it raised a $750,000 seed round investment led by Cofounders Capital, Sovereign's Capital and a number of angel investors. This month, the company will grant access to the first 100 employers on a first-come, first-served basis.
O'Donnell runs EmployUs out of Raleigh and is accustomed to running across fellow NCSSM alumni who have cofounded their own start-ups in the area. "Entrepreneurship and start-ups tend to be a great home for these kinds of people," he says.  
A High Point native, O'Donnell said early struggles at NCSSM were "tremendous" for his personal growth and helped him face failure head-on. "It taught me how to recover when I got kicked down," he says.
And, like the trajectory of his start-ups, NCSSM always pushed him to think bigger. He says he graduated feeling on top of the world. "Having the food drive was the high mark," he says, "My thing was, 'What's the next thing after that?'"
Steven Norton chairs the communications committee of NCSSM's Alumni Association. He works as a reporter for the Wall Street Journal.
Share this post.