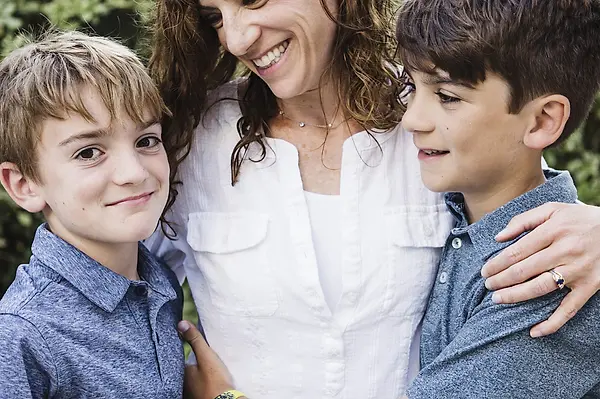 news
Alumni Q&A with Dr. Kersten Jacobson Biehn '93
Dr. Kersten Jacobson Biehn '93 with her two sons. Photo by Sophie Jacobson
BA, History, Princeton University, 1997 MAT program (Emory University)/North Carolina 6-12 Social Studies teaching certification (completed student teaching at Meredith College), 1999 MA, Intellectual History (History of Science), Rice University, 2003 PhD, US Intellectual History (History of Science), Rice University, 2006  
Current job title:
Writer, IQ Project  
Tell us a little about your work:
   I am working with my brother, Lars, on a multimedia project to encourage children in the middle grades and high school to explore major scientific issues by engaging them in a creative story. My roles are to write science fiction novels within a book series and to craft a curriculum tied to the novels to introduce to schools. I'm working on the first book in the series.  
How did you find your way to this position?
   My brother recruited me to join the IQ project after I had a 20-year career as an educator that started in 1999, my first year as a full-time 9th grade history teacher in the newly inaugurated Raleigh Charter High School. My career as an educator included over a decade of high school teaching, teaching college courses while I completed my graduate education at Rice, a short stint as a college professor, and, most recently, four years as Principal of Teaching and Learning at The Lerner School in Durham. I announced my decision to leave that job in January 2019 because I had agreed to work on the IQ project. My brother is a brilliant screenwriter, and he knows both that I have always loved to write and that I have a strong background in that area. This project combines many of my passions: education, writing, history of science, and creating with a team that includes people whom I deeply respect (especially my brother).   
How do you remember your experience at NCSSM? Did it influence your path to your current professional role or place in life, and if so, how?
   My experience at NCSSM was crucial to my decision to become a teacher, to focus on History of Science for my undergraduate thesis and Ph.D., and to continue with my writing. Ginger Wilson and Jim Litle were my mentors in high school, and I followed their example in my pursuit of a career as a humanities teacher. My love of history came from them, and I was able to combine it with my love for science, especially chemistry. I was a chemistry major initially at Princeton, largely due to the excitement I felt about the field from my work with Chuck Roser. At Princeton, I was the only female undergraduate in the department, and there was not a single female professor. The potential mentors discouraged me there, and told me how unwelcoming the field would be for women, which led me to turn toward History of Science to combine my two passions. If I had had professors at Princeton who were like Mr. Roser at NCSSM, I might have continued to pursue laboratory science. Participating in multiple areas of creative writing while at NCSSM and pursuing my dual interests in science and history throughout my time there certainly helped spur my future career.  
Do you remember getting your acceptance letter?
I vividly remember receiving my letter. We did not have postal service to our residence in our tiny town, so my parents had to walk into town to get our mail from our P.O. Box each day. My mom got the envelope when she went to the post office, and she actually drove to my school to make sure that I could open it right away. When I saw that I was accepted, I danced a jig and felt a leap in my heart that was born of pure joy. The dream that I had pursued since 6th grade had become a reality, and I started counting the days until I could go.  
Has your perception or understanding of the school and what it provides changed since you've had some years to consider the experience in the context of your larger life?
   I was deeply grateful to attend NCSSM and relished my time there, and my perception has evolved in the years since to increase my appreciation even more. My understanding of the value of the academics was always there, but my awareness of the impact of the empowering social environment has grown dramatically. Social hierarchies and peer pressure are prevalent among adolescents everywhere. Still, when I was at NCSSM, it felt that there were hardly any cliques. People spoke their minds, expressed themselves freely, and advocated for their race or culture or sexual identity, and they were supported by the school and each other in many of these endeavors. Compared with my hometown, the population of NCSSM was significantly more racially and religiously diverse. As a religious minority who was virtually alone in my hometown, it was comforting to see the variety of backgrounds, ethnicities, and beliefs among my peers. When I went to college, I felt comfortable introducing myself to everyone, and that social confidence came from the foundation of acceptance at NCSSM. I also became committed to social justice work largely because I saw how the experience at NCSSM was radically different from the educational and social opportunities afforded to many of my classmates (and myself) in our hometowns. Racism, homophobia, and religious discrimination erected barriers for many of us that were partially deconstructed at NCSSM, and it was a powerful example.  
What's a hobby or interest outside of work that says a lot about who you are?
As a former four-sport athlete at NCSSM (volleyball, swimming, soccer, and track), I enjoy exercise and athletic pursuits, including running, playing tennis and volleyball, doing yoga, and taking high intensity interval training classes. My enjoyment of these activities enhances every aspect of my life, from my physical and mental health to my social connections.
Share this post.