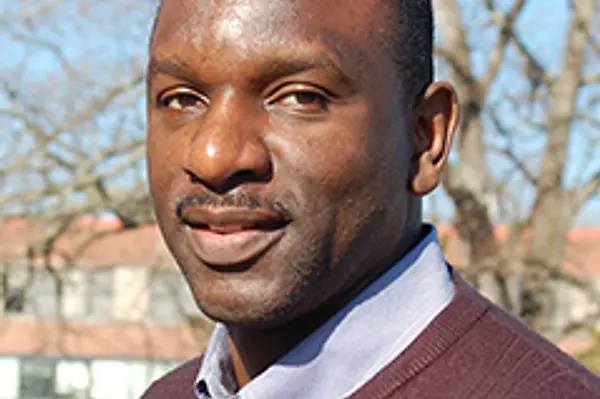 news
After Hours: Robert Allen
Vice Chancellor Robert Allen in the PEC with a few of his noontime hoops partners
He's the amiable vice chancellor who, because he manages the school's budget, often has to tell people "no" — as fairly as possible. Robert Allen balances stressful, desk-bound work by walking to meet with colleauges in person, when possible, and squeezing in exercise first thing in the mornings, at lunch, and on the weekends.
Position: Vice Chancellor for Finance and Operations
Years at NCSSM: 3 years in April
Home: Durham. He's originally from White Plains, NY, and came to NCSSM most recently from Michigan.
What he does outside of work: Allen loves sports, being active, and family time with his wife, four kids, and now especially with his grandson. His youngest son, Seth, a fifth grader, plays football, basketball, and soccer, so Allen takes him to practices and runs laps while he waits.
Allen ran track and played football in high school, then ran in college. Now he runs, lifts, and plays noon basketball in the PEC when he can. He has organized an NCSSM running group that meets Monday and Thursday mornings at the crack of daw-, er, 6:30 a.m. at the Duke East campus, at the corner of Markham and Sedgefield, to run a few laps of the 1.6-mile loop. Write to Allen if you have questions or want to join.
What coworkers may not know: He loves to take long drives, partly because he loves to listen to audiobooks, especially mysteries and dramas. "I do a lot of long drives between here and New York to see my parents, and to Michigan to see other family."
Best part of his job: Working with students. Last year he was able to help coach the men's and women's basketball teams. "That was a great experience. The closeness of the community here makes you feel more like you're at home than at work." 
Favorite perk of working at NCSSM: Being able to take advantage of student activities such as fine arts performances and cultural festivals.
One thing about working here that he'd do differently: Encourage more people to be physically active. "It helps you from a mental as well as a physical standpoint. The importance of that is often underestimated." 
So, about that running group…
Share this post.