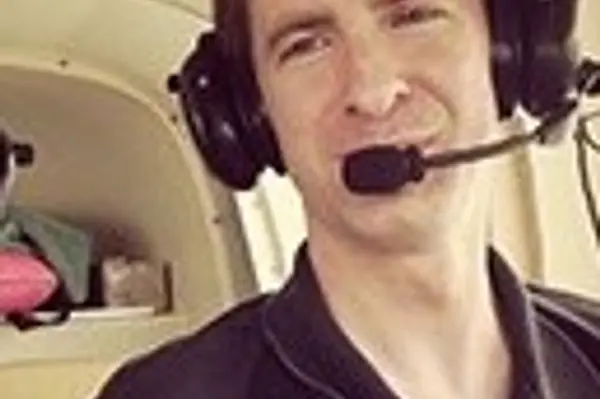 news
After Hours: Philip Rash
Philip Rash sometimes gets the chance to fly with former students. Here, Rash poses near his plane with Amanda Kilgore '08.
Philip Rash: Math Instructor and Aviator
Position: Math Instructor
Years at NCSSM: 11
Home: Originally Salisbury, NC, then the mountains (when he attended Western Carolina University), now Durham
What he does outside of work: He flies. Philip has his pilot's license and even has his own plane – a 4-seater Piper Cherokee 140. He credits his father with sparking his interest in aviation. "I've always had an interest in flying as long as I can remember," says Philip, whose father used to work on helicopters in the military. "I can blame that one on my dad, I guess," he laughs. Philip got his license 15 years ago, after he began taking lessons during his first year of teaching. When a colleague began taking lessons, he thought, "This is something I can do too." Now he flies between 50 and 100 hours a year, for everything from beach trips to professional conferences. This summer he flew up to New Hampshire for a math conference at Phillips Exeter Academy, and on another trip, took a perfect sunset flight around New York City with an aviator friend and his daughter.
The community feel of aviation is something he really enjoys, he says. There are conferences, talks at pilots' association meetings, and just hanging out. "A lot of people I know are either from work, church, or from flying. Sometimes I just go to the airport and end up hanging out with whoever is around."
One of Philip's favorite places to fly is Ocracoke Island, NC, part of the Outer Banks, where the Wright Brothers made the iconic first flight (which took place on the northern end of the Outer Banks in Kitty Hawk, NC).  "I've actually never driven to the Outer Banks," he says, "I've just travelled there by air."
His favorite thing about flying? "This idea that you're just up there above everything else. And, you don't have to worry about as much traffic."
What coworkers may not know: Many colleagues know that he flies, but, he says, "maybe not that I drive an electric vehicle. That's probably because it doesn't look like an electric vehicle. It's an old Dodge Dakota that's been made to be electric." Philip spent two years retrofitting the old truck, ripping everything out of the engine compartment then rebuilding it as an electric vehicle. He watched videos and researched online to guide him through the process, finding advice from others and figuring some of it out as he went along. "It's amazing what you can find on the Internet!" he says.
Best part of his job: "Getting to work with some really interesting students and colleagues." He stays in touch with many of them. "There is something really different here, about Science and Math. People seem to stay in touch a little better." Just this summer, he was able to visit with an alumna graduating from the California Institute of Technology. From time to time, he even gets to go flying with alumni.
Favorite perk of working at NCSSM: The opportunity to teach Mini-Term. "At what other high school would I get a week to just talk about flying with the students?" And quite a few students who take the aviation Mini-Term go on to get their pilot's license. One student took his Mini-Term course then went on to take flying lessons, and even inspired her father — who began his flying lessons virtually the day she got her certificate.
One thing about working here that you'd do differently: "Probably try to keep my office cleaner."
Interview by Sophie Williams
Share this post.