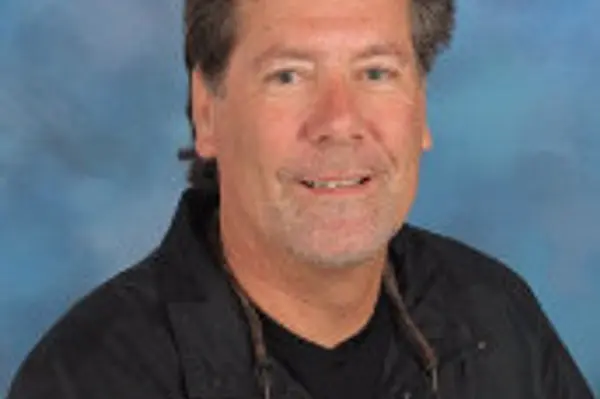 news
After Hours: Michael Mitchell
Mitchell (far left) has coached baseball at NCSSM for a decade. He is also currently the women's golf coach, and has coached women's softball as well.
Position: Electrician in Plant Facilities
Years at NCSSM: 22
Home: Caldwell, NC. Originally from Clearwater, Florida, Mitchell spent 8 years in the Air Force stationed in the Philippines, South Korea, Germany, and more, then lived in Chicago for a number of years before moving to North Carolina, where he has family.  
What do you do outside of work? Mitchell is head baseball coach at NCSSM, a post he has held since the 2006-2007 season. This season is one for the record books, with more wins then any other year he's coached. The team travels to the state playoffs this week.
Mitchell loves baseball. In the summer, he often takes some time off to travel around to minor league baseball team parks to watch them play.
In the fall, Mitchell serves as women's golf coach. "Oh yeah, I'm a big golfer," he says, and even works at a golf course in the area, a job he started when he first moved to North Carolina some 25 years ago. He spends many weekends at the Umstead Pines golf course, and sometimes takes the team to play there for a change of scenery from their usual practice location.
What might coworkers not know about you? First of all, Mitchell shares a fun connection with another NCSSM staff member, Monique Williams '98. Many know Williams as a science instructor, but Mitchell first met her during her senior year on the Unicorn softball team, where she was a catcher and an all-conference player.
But the real story is about how he met Mr. T (yes, that Mr. T). Mitchell was doing woodworking in Chicago at the time, and was working on a job at the actor's home. Mitchell had been working there for about a month and had never seen the actor. But one day, there was an accident on site, and Mitchell lost the tips of the first two fingers on his right hand to a saw. In the aftermath, as Mitchell was being attended to, Mr. T had heard someone had been hurt working in the house, and came down to make sure he was ok. As Mitchell recalls, "You can imagine his voice, that very scruffy, hardcore voice from the movies, and he comes down and looked just like he looked on TV, with the gold chains and everything, but his voice was nothing like that. It was very calm and light and quiet." Years removed from the incident, it's sort of a joke to Mitchell, and he can laugh about it now. "I had kind of imagined, 'I pity the fool that cuts off his fingers in my house!'" Mitchell says, referencing the actor's famous line, "but not at all. He was very nice, and came by later to check on me. So that's how I got to meet Mr. T."
What is the best part of your job? The answer comes easily for Mitchell. "I've worked with a lot of good people and had a lot of good jobs, but for me, it's one word: students. I'm not really sure how to put that poetically, but that's it. Students are why I've been here all these years. And coaching is my way of being a part of their lives."
What is your favorite perk of working at NCSSM?  "Coaching. Getting to coach the students. That's it for me." And his role as a coach is starting to come full circle. He stays in touch with most of his former players, and even has a Facebook group for alumni athletes he has coached. Now many of his players are reaching milestones like getting married or graduating from college, and he gets to be a part of those things too.
What is one thing about working here that you'd do differently? "I'm not really sure how to answer that one!" he says. That's ok, we were just throwing you a curveball, Coach.
Share this post.