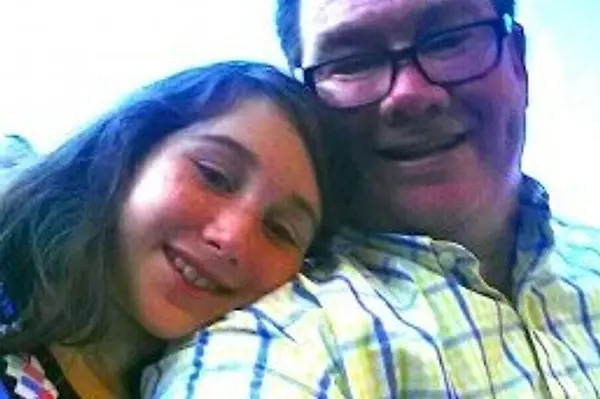 news
After Hours: Kevin Cromwell
Kevin Cromwell and his daughter, Bella, at Mumford & Sons concert in Raleigh last week. Having watched her older brother go off to concerts with her dad, the eight-year-old is asking to go to Bonnaroo. "When she's 16," Kevin says.
Kevin Cromwell: Avid concert-going dad
Position: Director of Student Services.
Years at NCSSM: 24. "I started here as an SLI (student life instructor) and thought I'd be here for two years. Then I worked as student activities coordinator, then in admissions." In 2001 he moved into his current role. He also served for over 10 years as track and cross country coach, from 1992 until 2003.
Home: Apex
What do you do outside of work? "I discovered about three years ago that going to concerts was a great way to connect with my middle son (Tray, now 17)." The concerts and the drives to and from are great bonding times, he says. The tradition started about three years ago when Kevin took Tray to the Bonnaroo music festival. They've been to some 30 concerts since then. "We've been good for each other," Kevin says. "He didn't know who Paul McCartney was, but after a three-hour set he gained all new respect. Meanwhile he's introduced me to Alt J, MGMT, and Alabama Shakes before they got big." Father and son will be traveling to Washington, D.C., for the July 4 20th anniversary show of post-grunge Americana band Foo Fighters.
Other interests: reading, increasingly nonfiction; travel, especially because his wife travels for work and sometimes the family can tag along; and Asian cultural events, as the adviser to NCSSM's Asian Cultures Club.
What coworkers may not know about you: "I'm really a shy person." People who work with Kevin might not believe that, because they know him to be outgoing, but the older he gets the more energy it takes — and the more likely he is to shut down when he gets home to reenergize.
Best part of your job: "Working with this community of students, staff, and faculty. There's some amazing stories."
Favorite perk of working at NCSSM: "Every day, there's something that makes you smile."
One thing about working here that you'd do differently: "I'd wish for more time for everybody, so they could engage in extracurricular activities with the students and still maintain a good work/life balance. One of the things that makes this school special is getting to know the students."
Know an NCSSM colleague who we should feature in After Hours because of his or her interesting pastimes or contributions to the community? Submit your idea here.
Share this post.