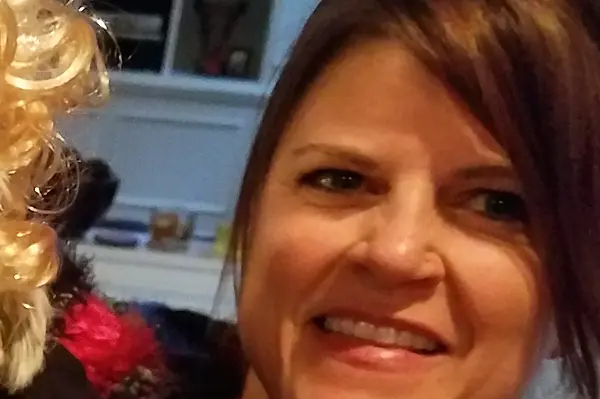 news
After Hours: Kendall Hageman
Hageman with her two-year-old pup, Macy Gray, dressed up as Shirley Temple for Halloween.
Position: Director of Distance Education and Extended Programs
How long at NCSSM: She's going on her fifth month; she joined the school in July 2016.
Home: Apex. Hageman was raised in South Florida and moved to North Carolina in high school, so she calls both states home.
What she does outside of work: "My favorite thing in the whole world is my dog," Hageman says. One look at Macy Gray, the two-year-old, 27-pound Whoodle — Wheaten Terrier/poodle mix — is all any dog lover needs to understand why. "I love walking her, taking her on runs, anything with her. We took her hiking this past weekend."
Hageman researched the cross breed but was put off by the high prices they command. Two years ago at Thanksgiving, she got a call from a dog rescuer in Lexington, where owners left Macy Gray at a kennel and never returned for her.
Hageman also loves to conduct leadership development with high school students. Through her LLC, Insights Consulting, she gives teenagers Myers Briggs and other strengths and personality tests. She shares her passion for mentoring youth with her "other half," Alfred Mays, a program officer for STEM education for the Burroughs Wellcome Foundation.
What coworkers may not know:  She went skydiving for her 40th birthday — with two broken feet. First she was running on a treadmill that stopped, giving her the first fractured foot. Then she walked around for a few weeks with one foot in a protective boot and the other in a high heel — so she rolled that foot and gained a second boot. Then she went skydiving — with two boots — and the instructor jumping with her sensed her love of adventure. He asked if she wanted to do a spiral (Google it). The first direction was fine, but she agreed to spiral one more time in the other direction and ended up at home on the couch, everything spinning, instead of continuing the birthday celebrations.
"I go overboard with everything, as you can see," Hageman laughs, pointing to a stuffed unicorn hanging on her office wall. "I've only been at Science and Math for five months and I already have a unicorn head on my wall. That's Mystic."  
Best part of her job: "Getting to work with people who have the same level of passion and motivation for providing quality education foro all students."
Favorite perk of working at NCSSM: "Getting to interact with students, whether it's the online students coming here for the weekend, or jumping into a studio during an IVC class, or yesterday I went on a site visit. And summer! I think my third day here I was teaching a yoga class to Early Accelerator students."
One thing about working here that she would do differently: Make the buildings warmer. "I'd raise the temperature about 10 degrees."
Share this post.