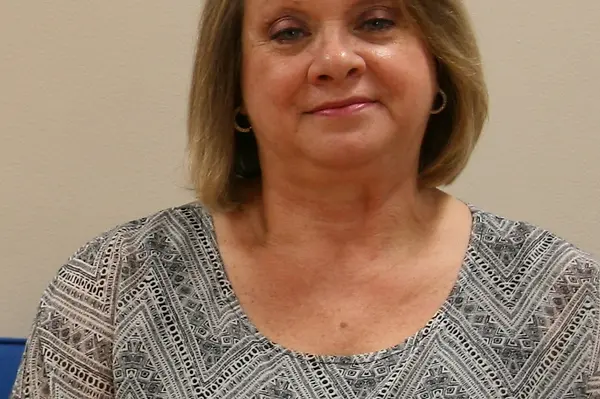 news
After Hours: Kathy Jackson
After working in distance education at NCSSM for 25 years, Kathy Jackson is trying to adjust to the idea that she's retiring in December.
Position: Office manager, Distance Education and Extended Programs
Years at NCSSM: 25 years in October
Home: Durham
What she does outside of work: "We just like to go," she says of herself and her husband, Bobby Jackson, who retired from NCSSM as a security officer three years ago. They love to travel, and only have six states left to have visited all 50 U.S. states. They plan to visit the last few, the New England states, after Jackson retires in December. She would also love to go on another cruise, and visit Moab, Utah. "I love going out West," she says, listing the Grand Canyon and seeing the redwoods in California as some of her favorite trips.
Jackson loves spending time with her family, including her three children and 11 grandchildren ranging in age from 7 months to 19 years. Luckily, they all live nearby.
She also enjoys cooking, something the rest of her DEEP department seems to appreciate. She's known for her Christmas party each year, for which she brings in a whole assortment of goodies for people to share before winter break. She always makes a hash brown casserole, she says, and, of course, sausage and cheese balls. It has become one of her favorite traditions. "I just like to do for people, you know," she says. She is looking forward to carrying out the tradition one last time before she leaves NCSSM. "I'm not sure who is going to take it over then!"
What coworkers might not know: "Nothing!" she says with a wave of her hand. "They know all this stuff."
Best part of her job: The people. "I love that personal connection," says Jackson, as well as seeing the camaraderie among her division and the willingness her colleagues have to help others.
Favorite perk of working at NCSSM: The people. "I'm really thankful for this job, it has been a blessing to me," she says, and it's hard to think of retiring. "When I started back in 1991, I saw 'projected retirement: October 2016' and thought, 'psh!' Now it's almost here!"
One thing about working here she would do differently: Not much. She has enjoyed seeing the school, and distance education especially, grow, and she hopes that growth continues so the school can serve more students.
Share this post.