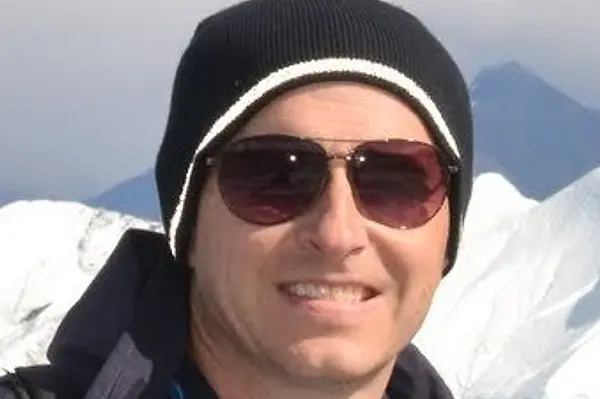 news
After Hours: Geoff Coltrane
Coltrane and his family hiking on Matanuska Glacier in Alaska this past summer.
Geoff Coltrane embraces research and problem-solving at work. After hours he enjoys hiking and spending time with his family. Maybe no more wrestling, though…
Position: Director of Institutional Research and Engagement
Years at NCSSM: 4
Home: Durham; originally from Trinity, NC
What he does outside of work: Coltrane spends a lot of time with his two children. His daughter, Asha, is twelve years old, and his son, Devak, is eight. Coltrane enjoys racquetball and volunteering at his children's schools. When he has the time, Coltrane likes to do "a little bit of reading and a little bit of hiking."
What coworkers may not know: In the tenth grade, Coltrane was on the wrestling team at his high school. One practice, he got knocked in the nose, and it began to bleed relentlessly. After this incident, his nose would bleed with little provocation at every practice and a bottle of Clorox had to be kept nearby!
Best part of his job: Working with students, faculty, and staff. Even though he is not teaching, he has student advisees and loves working with those doing research. He finds the part of his job that involves problem-solving always fun and exciting.
Favorite perk of working at NCSSM: "The sense of community here is very strong, people feel connected to each other and the school. There is a strong sense of belonging, and an intensity about the experience."
One thing about working here that he would do differently: Coltrane is interested in teaching a course, possibly an online or research course, or something that would draw on his background in public policy.
— Interview by Anna Scotton '16
Share this post.