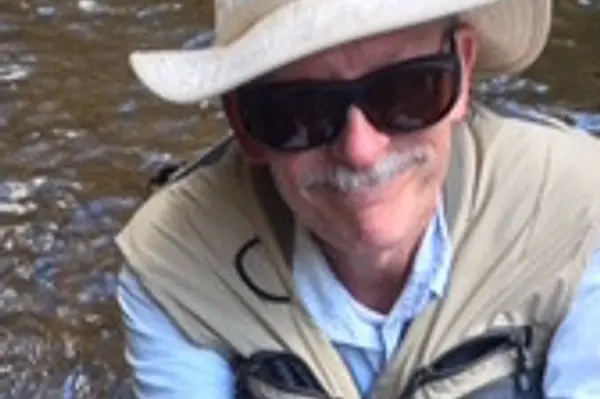 news
After Hours: Dave Stuntz
Chorus director Dave Stuntz with a beautiful species of trout that he recently caught (and released) in a North Carolina mountain stream. The camera angle makes the fish appear far smaller than it truly was, he notes.
Position:
Music instructor, director of Chorale. Stuntz works part-time at NCSSM; he also serves as director of music ministries at Blacknall Memorial Presbyterian Church in Durham.  
How long at NCSSM: 11 years
Home: Durham.
What he does outside of work: Stuntz is an avid fly fisherman. He discovered the sport on a vacation in Alaska. "I was standing in a fast-moving stream and I saw a guy fly fishing, and I couldn't take my eyes off it. 'That looks like the coolest thing I've ever seen.'" Married, with kids and grandchildren, Stuntz is "maniacally a people person, I love collaborative music-making and everything else collaborative. This is the only thing I do in life by myself."
He fishes locally on the Eno River, or he'll make a day of it and drive three hours to the coast or mountains.
What coworkers may not know:  He's a lifelong baseball fan, rooting for the Baltimore Orioles. He grew up in Annapolis "at a time when they were riding high." The only three days he ever missed school, K-12, were for baseball games.
Best part of his job: "I'm working with a thoroughly heterogeneous group of students," he says. Unlike band or orchestra, where students have to come to NCSSM with previous experience plaing their instruments, "a healthy percentage" of Stuntz's singers have never participated in a chorus before. "Singing is different from instruments. Your instrument is your body, and every body can sing. So I have students from the high end to not-high end, and the kick for me is watching them take two steps at the same time — forward, and together."
Favorite perk of working at NCSSM: "I'm one of the luckiest people you'll ever meet, because I make my living doing what floats my boat. And getting to do that with Phillip [Riggs] and Scott [Laird]? Holy cow.
"The three of us see the world and our jobs through the same set of lenses. We want what is in the best interest of our students, what would make these ensembles student-centered as opposed to driving toward some notion of performance."
He's been telling music students that they're experiencing a once-in-a-lifetime phenomenon, learning from the national music educator of the year (Riggs) and the state music educator of the year (Laird) in one year.
One thing about working here that he would do differently: "It seems to me, from observing our students, that we take a little too much delight in the pressure that our students are under. Because most of the students don't seem to be thriving with it. Too much of the time, they're surviving. I would love to see the larger health picture moved at least one notch higher up in our priorities…. Students tell me all the time that the one thing they wish they got more of is sleep."
Share this post.