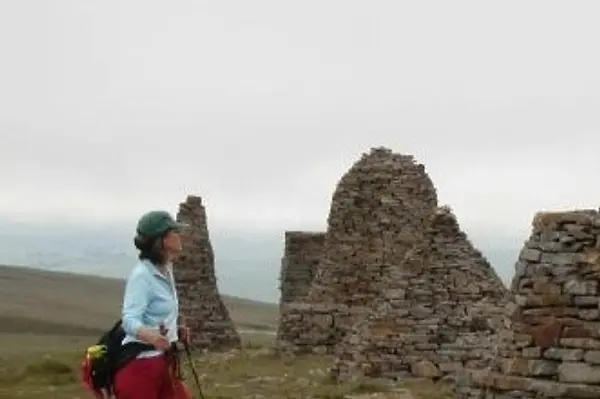 news
After Hours: Amy Sheck
Amy Sheck on the Coast to Coast Walk, a 200-mile footpath across England, several years ago.
Amy Sheck, long-distance hiker
Position: Dean of Science and Instructor of Biology
Years at NCSSM: 14
Home: Raleigh
What she does outside of work: Amy and her husband, Don Hornstein, have been taking walks — really long walks — since before they were married. At 19, Amy hiked the entire Appalachian Trail with Don (that's them at left, with full packs, on the AT). Over the years they've hiked the Pacific Crest Trail, the Continental Divide and many other trails in the U.S. and overseas, including England, Ireland, Scotland, and Wales. This past June the couple traveled to England to walk the Thames Path, following the river from Hampton Court through London to just past Greenwich. They averaged 15 miles a day while taking in the sights, from small villages and canal boats to the grand bridges and museums of downtown London. They have their roles: Don does the logistics, planning the route and booking the accommodations. Amy's role is "to tell him how wonderful everything is," she laughs. These days they lighten their load, literally, by hiring couriers to carry their suitcases ahead to the next B & B or inn so all they need to carry is rain gear, an extra layer, and walking sticks. "It's nirvana," she says.
What coworkers may not know about her: "I am learning Tagalog (Filipino) using Rosetta Stone." 
Best part of her job: "I love during Family Day or open houses when I tell parents about our student activities in the lab classes and the parents say, 'I want to go here.' I love that."
Favorite perk of working at NCSSM: She likes the fact that serving as dean gives her a platform for organizing community and outreach events such as Lean In: Women in Science and TedX. But "sixty percent of my job is still teaching, and the best part of teaching is interacting with students. And we have excellent students."
One thing about working here that she would do differently: "I would upgrade the lab spaces, that's a widespread concern," she says — everything from ventilation for the chemistry labs to more space and more appropriate furniture throughout.
Know an NCSSM colleague who we should feature in After Hours because of his or her interesting pastimes or contributions to the community? Submit your idea here.
Share this post.