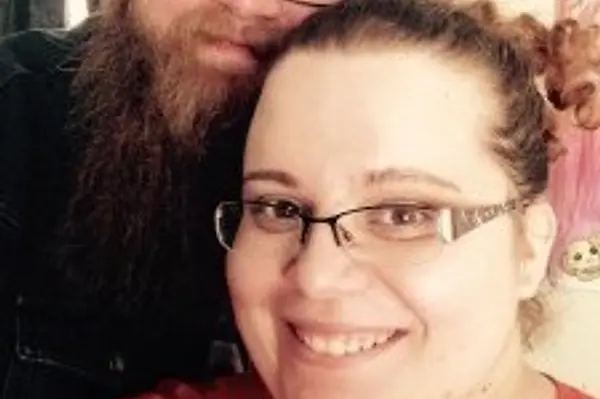 news
After Hours: Alex Jackson
Alex Jackson and her amply bearded husband Billy
Alex Jackson, Administrator and Arm-Wrestling Community Activist
She's the face that greets you from behind the front desk at seemingly all hours, so it may surprise you to learn that Alexandra Jackson doesn't actually live in Bryan Lobby 24/7. In addition to her 8-to-5 shift, she does volunteer with student groups in the evenings and on weekends. But Alex and her husband, Billy, are also active in a number of community-minded groups.
Position: Administrative Support Associate
Years at NCSSM: 2.3
Home: Durham. She's from Manhattan but has moved often; she's lived in North Carolina for five years.
What she does outside of work
Her husband, Billy, likes to grows his beard, so the couple became involved with Bull City Beardsmen. The club raises funds for local charities through beard and mustache competitions around the country. Alex became president of the group shortly after joining, and now she organizes events such as socials that raise money and/or food donations.
Through the Beardsmen, she learned about LUEWWD (League of Upper Extremity Wrestling Women of Durham). The group holds arm-wrestling events at Social Games & Brews on Main Street to raise funds for organizations supporting women and girls in Durham. Alex began by volunteering at the events, selling tickets and such. At the most recent event, she wrestled. "You create a persona — mine was Medi-Kated — and you dress in costume. You have an entourage that really plays to the crowd, getting people to vote for you (which means donate money), like 'I'll let you touch my beard for $1' or 'I'll drop and do 10 pushups for $10.' You go through three rounds to become the champion, and I won last time." The event raised funds for QORDS, a local summer camp for queer-oriented teens.
What coworkers may not know
She loves riding on motorcycles (not driving, but riding), roller coasters, and heavy metal concerts. "I'm a completely different person outside of work, I'm pretty free spirited and outgoing."
Best part of her job
"It's kind of like being the hub of an airport, things are coming and going nonstop. I like being in the know, hearing about things first, staying on top of little details because they may turn into big things, and being able to let people know."
Favorite perk of working at NCSSM
The food. "So much food gets brought in through the lobby — catering for events, special lunches — and I often get offered samples and taste testing."
One thing about working here that she'd do differently
"I'd like to see more interaction between departments. It's one of the benefits of my job that I get to know everyone, from all different departments. I meet so many interesting people, and I'll be talking about someone and the person will say, 'I don't know her, she's not in my department.'"
Share this post.