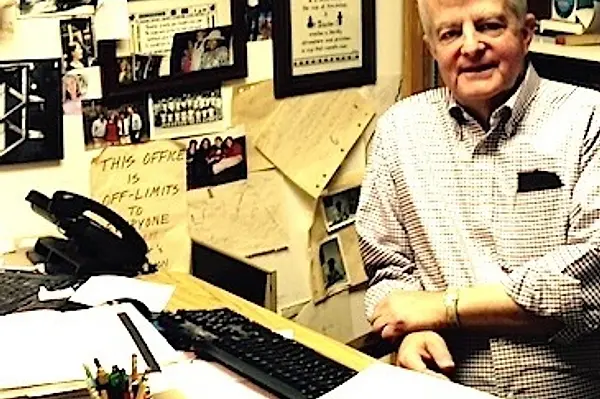 news
After 35 years, Jon Miller retires — to his books
English instructor Jon Miller in his Beall basement office.
First and foremost, Jon Miller loves books. Books are what eventually led to him to North Carolina School of Science and Mathematics as a founding faculty member. And books are what await him on the other side of his retirement in June after 35 years at the school.
"I'm going to read," Miller says. "That's what started this whole thing."
As a child, he would wake early and scramble to sit on the warm-air floor register and read for an hour before anyone else was up. Then came the Thanksgiving vacation of seventh grade. Someone threw a stick in his eye, landing the young Miller in the hospital for 10 days with bandaged eyes. His greatest heartbreak was missing the exciting first week of a new student teacher, Miss Snyder.
"That young teacher, she had to be all of 21, came by the hospital at the end of her first day of teaching, when I'm sure she had a lot more important things on her plate," Miller remembers. "And she read to me, Miracle on 34th Street, every day for a week. I couldn't see her, but I was sure she was the most beautiful girl in the world."
Fast forward a few decades to a group of NCSSM students asking their beloved English teacher to read the Dr. Seuss classic, How The Grinch Stole Christmas, to them at the holiday dance.
"That's the stupidest thing I've ever heard, you don't go to a dance to be read to," he told the students. Instead, he read the whimsical holiday book to a gathering of students in Bryan Lobby. And now, however many years since, Miller's annual reading has become the stuff of NCSSM legend.
"The first time you do something here, it's no big deal. But if you do something twice it's forever," he says. "I started my career to be a serious man of letters, but I've become known as the man who reads The Grinch."
More seriously, he admits, "the remarkable thing from my perspective is to see the students gathered, they look like they're 17 going on 27 because of course everyone is dressed up. Then all of a sudden they are 17 going on 7, sitting on the floor listening to a story."
Watch Jon Miller read The Grinch in December, 2014
Miller was teaching at Hillside High School in Durham when his principal told him about a new school starting in Durham. He soon became one of the founding NCSSM faculty members.
"At our first faculty meeting, we all sat around a table and created a program, jointly. There was no assigning, everybody pretty much had a hand in birthing the baby," he remembers. "It was a remarkable feeling. That sense of ownership gives you a fire, a palpable sense of pride. When the students came that first year, they felt that. There was no graffiti on this campus for the first few years. The students knew what they had and if they didn't work hard, they might close the school."
Those same first students taught the newly formed faculty a few things, too. "We were smart, intellectual snobs and we had thought of everything — except about 16-year-olds," Miller laughs. "They'd been here a few days when they told us they wanted to run track. Someone went out and bought t-shirts and the art teacher stenciled the school name on the shirts, and within a week we had a varsity track team."
"School is about ever so much more than English and mathematics. I love that it's the Bryan Living and Learning Center, right there on the wall when you come in. Every day you can see that and remember you are not the center of everything."
He has learned over the years from an impressive group of colleagues. He was helping biology teacher Ross Baker move equipment into new shiny new lab facilities from Hill House, which at the time opened to woods. When Miller asked Baker if she was excited to finally have "real" lab space, she told him, "You know, you can teach a lot of biology in the woods." Steve Davis, the first faculty member to be hired, used to say, "I don't teach mathematics, I teach students." Despite all the technological changes over the years, "We continue to teach people," Miller says.
He jokes about how his windowless office in the basement of Beall is evidence of how English is valued at NCSSM, but it's clear he has relished his role.
"The great advantage of teaching English to 16-, 17-, and 18-year-olds is you're talking about the things they're most interested in: life, relationships, the difference between right and wrong, the meaning of the universe. It's germane to their lives, you have the advantage of hitting them right where they are."
"I never looked at teaching English as career or vocational training," Miller says. "I'm wrestling for your immortal soul."
This summer, after he has packed up his office full of books and memorabilia from 35 years, he plans to start reading — with a vengeance. Fiction, nonfiction, poetry, all of it. He'll be able to read late into the night without worrying about having to be on campus in the morning. He and his wife live in a house "built for books" where the two-car garage serves as a library. His thousands of books are "not a collection, but an accumulation."
And if his most lasting legacy is as the English teacher who annually read How the Grinch Who Stole Christmas, he's OK with it, thinking back to his own youth and his hospital stay. "It seems a fitting way to give back for what a wonderful young teacher once did for me."
A retirement celebration and reception will be held Wednesday, June 3, from 4 to 6 p.m. Remarks will be given at 5 p.m. and streamed live on Livestream.