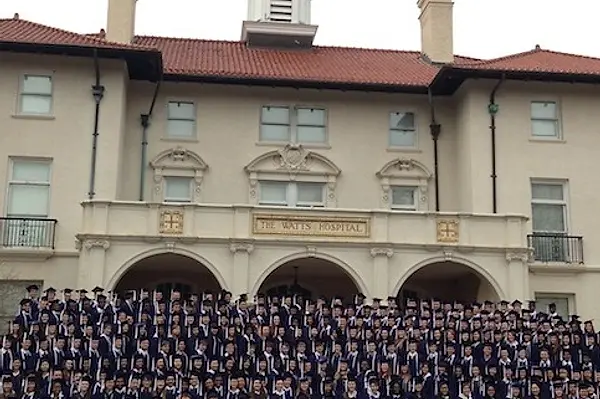 news
Accomplished Class of 2015 to graduate on June 6
The Class of 2015, posing this spring: The 341 students hail from 71 North Carolina counties and are headed off to 35 different colleges and universities.
North Carolina School of Science and Mathematics will graduate its 34th class of residential students on Saturday, June 6, on the school's historic Durham campus. The 341 members of the Class of 2015 represent all of North Carolina's congressional districts and 71 of the state's 100 counties.  
Thomas W. Ross, president of the 17-member University of North Carolina, will address the graduating seniors as featured speaker. "NCSSM is one of our state's most remarkable assets," Ross says. "We know that science, math, and engineering education is critical to the future of our economy and our country."
Thomas Andrews '15 of Hayesville will deliver the student address. Abhishek Kulgod '15 of Huntersville, president of the Student Government Association, will introduce President Ross.
"It has been an absolute pleasure to get to know and work with students in the Class of 2015 over the past two years," says NCSSM Chancellor Todd Roberts. "They are truly outstanding students. I have been impressed by all that they have accomplished, but more impressed by who they are as people. I look forward to all that they will accomplish as NCSSM alumni.''
Members of the Class of 2015 have received awards and recognition in the most challenging and prestigious academic competitions, nationally and internationally, including the Conrad Spirit of Innovation Challenge, the Intel Science Talent Search, the Siemens Competition, and the FIRST Robotics World Championship. While pushing themselves academically, these students also participated on 21 varsity sports teams, in the performing and visual arts, in clubs and volunteer work, and in leadership positions ranging from student teaching assistantships to student government and support for admissions and institutional advancement.
A few statistics on the Class of 2015:
Roughly 65 percent of this year's graduates plan to attend college in North Carolina, with 56 percent enrolling at a University of North Carolina constituent school.
The Class of 2015 completed more than 26,000 hours of community service.
NCSSM teams finished first and second out of more than 1,500 teams in the 2015 Moody's Mega Math Challenge.
77 members of the Class of 2015 were named National Merit Finalists.
3 NCSSM students are among the 10 students named Benjamin N. Duke Scholars, earning full scholarships to Duke University; 4 students were among the 40 named Park Scholars, earning full scholarships to NC State University; and 1 student was offered the Morehead-Cain full scholarship to University of North Carolina-Chapel Hill.
NCSSM teams won 2 of the 5 top honors in the 2015 Conrad Spirit of Innovation Challenge, creating commercially viable products that can benefit humanity and support global sustainability.
The commencement ceremonies begin at 10 a.m. on the Watts Lawn of the NCSSM campus, 1219 Broad Street in Durham. Watch the event live on Livestream.
See where the Class of 2015 is headed: NCSSM Class of 2015 Colleges and Universities
"Don't get too attached to any plan," "embrace your weaknesses," and "don't forget dental hygiene": NCSSM alumni offered some  via Facebook.
NCSSM Online To Honor Its Graduates on June 7
NCSSM will also recognize graduates of its online program during the 6th annual Recognition Ceremony on Sunday, June 7. NCSSM Online is a two-year, sequenced online program that provides exploration of specialized, high-caliber STEM courses while allowing students to still attend their local high school. This formal ceremony recognizes the achievement of these students and the additional effort they invested over the last two years of high school.
Share this post.