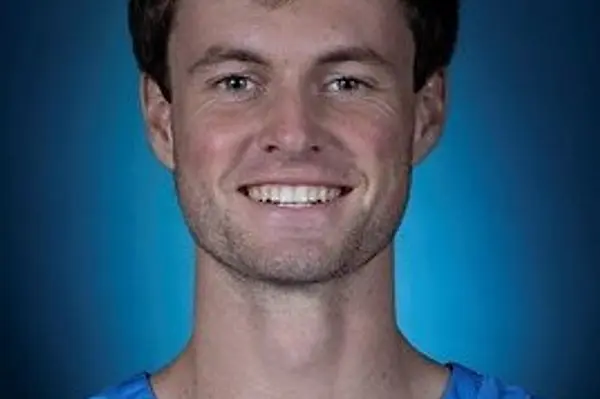 news
A Unicorn goes to the NCAA Final Four
Only 1 percent of men's high school basketball players go on to play Division 1 college basketball, but an NCSSM Unicorn has beaten those odds. Not only that, but Rob Landry '19 is a member of one of the best teams, the University of North Carolina-Chapel Hill Tar Heels, who are competing in the NCAA Final Four this weekend, with a historic matchup against rival Duke University Saturday.
After a championship sophomore high school season with Greensboro Day School, Landry transferred to NCSSM for junior year, a decision that emphasized his academic potential above his athletic prospects – and of course he was a star player for the Unicorns. Yet after heading to Carolina to double-major in biochemistry and business (and playing on Carolina's junior varsity team as a freshman), he tried out as a walk-on and made the Division 1 basketball squad this past fall.
"I've never been more excited," Landry said.
Though his statistics page shows only three minutes of playing time this season, Landry plays a vital role on the Tar Heels' "Blue Team," where walk-ons learn to imitate an upcoming opposing player's tendencies in scrimmages with the starters and regular substitutes.
"If they shoot a lot of pull-up jumpers, then I'm gonna shoot a lot of jumpers. If they shoot a lot of threes, I'm gonna shoot a lot of threes," Landry said.
Playing for UNC at this moment is particularly significant due to his family legacy – his father, Pearce Landry, played for the Tar Heels from 1993-95, also as a walk-on. He was a captain of the team that won the NCAA South Regional and played in the Final Four in 1995.
So it was sweet for Rob Landry on March 5 to be a member of the UNC squad that beat Duke at Coach Mike Krzyzewski's final home game at Cameron Indoor Stadium.
"As a kid, we would actually go out and celebrate every time Duke lost by going to get ice cream, or going to get doughnuts or some sort of dessert, and we called it a 'Boo Duke' party," Landry said. "So being a part of a team that took down Duke, especially in Cameron, on Coach K's last game, was an absolute lifelong memory for me."
Landry grew up a die-hard Carolina fan and an ace basketball player, with experience playing for the NC Spartans club team and Greensboro Day, which has one of the best boys basketball teams in the state, winning the 4A NCISAA State Championship 11 times out of the 45 years they have been active.
"The two years that I was at Science and Math, GDS won the state championship," Landry said, "so it was a little [wistful] to see their success."
However, he credits NCSSM with giving him the necessary tools to excel. He hopes to work in biotech investing, inspired in part by his father, who encouraged Rob to see where science and finance intersect.
"I think for one, there's zero chance that I could do those majors without my time in Science and Math," Landry said. "Biochem itself is already like a major and a half in terms of credit hours and time requirement. So to throw a business [major] on top of it simply wouldn't be possible, credit hour-wise, except for the fact that I came in with like 44 credit hours due to my time at [NCSSM]. I think in addition to that, it also prepared me really well for some of the upper level chemistry classes, like organic chemistry and biochemistry, where I have not had to study nearly as much as some of my classmates, or I've already been introduced to some of the topics, which makes them a whole lot easier to understand."
After taking a gap semester last spring to intern at a biotech firm in Durham, Landry is classified as a sophomore for sports purposes and a junior for academic ones. So the worldwide NCSSM community will be watching Landry – this weekend at the Final Four, the future of his college basketball career – and what he ultimately does with his scientific knowledge and entrepreneurial spirit that took root at NCSSM.
For now, Landry is enjoying the moment, traveling with the team to New Orleans, and hoping for a "Boo Duke" party this Saturday.
Share this post.