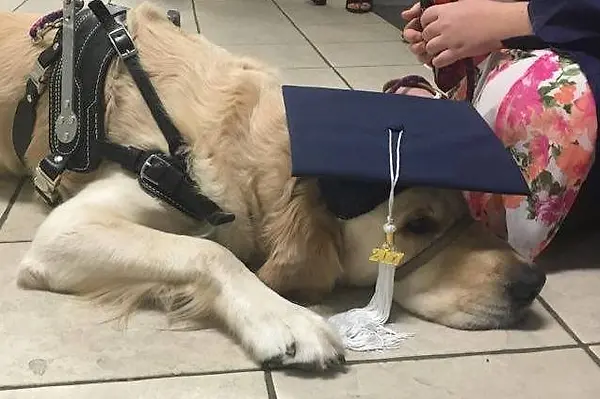 news
A phenomenal duo: Kenzie Potter '17 and Intel, NCSSM's first service dog
Senior Kenzie Potter and her golden retriever service dog, Intel, are a popular duo on campus.
Library guinea pig Tribble now has competition–senior Kenzie Potter's service dog, Intel, may well be students' new favorite pet on campus. As the first service dog to reside at NCSSM, Intel accompanies Potter to class and to school events, where he helps with tasks such as "picking things off the ground, brace work, and mobility support" and stands by Potter, who suffers from a chronic illness.
Potter, an avid writer currently in the process of publishing her first novel, raised close to $14,000 last summer to adopt Intel from a lifeline assistance dog organization. After spending two weeks team-training Intel over the summer, Potter is glad that his training process is now complete, but she notes that living with Intel still entails "a few extra responsibilities." Caring for Intel at school is "kind of like being a parent while going to college," she says. He "acts like a child when he's off duty and has a habit of eating socks and getting sick. When he's sick, he keeps me awake, and I'm up all night, even though I'm not sick," Potter explains. "Then, I have to keep his schedule up as well as mine."
But tending to Intel is certainly worth it. "It's always nice to have someone there. You're never alone. He's giving me more independence; I can do things by myself without having to worry about having someone there." Intel's also a character. According to Potter, Intel "loves cats and just wants to be friends with squirrels," and is even a good sport. "When he's playing fetch with other dogs, he almost always wins," says Potter, so he'll occasionally hand the ball over to give the others a chance, too. Socks, though, to Intel, are preferable even to balls, to the extent that Intel recently had to have surgery to remove a sock from his stomach. "I have to make sure there are no socks in my room," says Potter. "I pick them up when I enter rooms."  
Fortunately, Intel acts "really chill" when there are no socks around, and he is "good and patient with children too." Intel generally likes to sleep during class, Potter explains, but "one time in [Humanities Instructor Martha] Regalis's class, he got scared of a spider and woke up and shuffled across the room!"
Intel shares Potter's love for literature, dressing up not only for Halloween, but for book releases as well. "When the new Harry Potter book came out, I dressed him up as a dementor," says Potter. Potter herself counts Gram-o-Rama, the celebrated grammar class at NCSSM, among her all-time favorite courses, along with Fiction Writing and Poetry Writing, two classes she took this spring. Intel travelled with her to both.  
Humanities Instructor Nicole Sarrocco, Potter's instructor in both Fiction Writing and Poetry Writing, has "been really helpful with poetry writing," says Potter, as well as with the book Potter recently authored. Potter's book is about "the stories of people inside mental hospitals," and her own experiences, she says, "intertwined with activities to help with mental health." As she awaits its publication, she has been filling her time singing and writing poetry – and watching Disney movies. Potter was an active member of the Disney Movie Club at NCSSM, which screens Disney films regularly at locations across campus. Naturally, Intel tags along.
Potter and Intel make a great moviegoing pair: Intel never barks during movies, though he'll sometimes "roll his eyes and groan." But though Potter loves her dog, her favorite Disney movie isn't Bolt or AirBuddies or The Lady and the Tramp. "It's Tarzan," admits Potter. "That or Star Wars."
– Interview and profile by Avra Janz '17
Share this post.