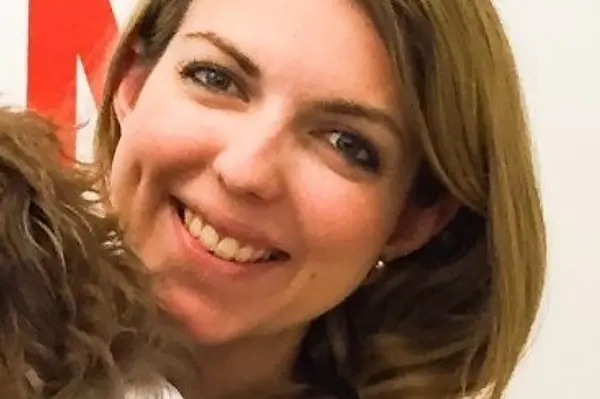 news
A fast-track career built on passion to serve
Alia Whitney-Johnson '04 brought her pup to work, dressed in a LeanIn onesie, on launch day for #LeanInTogether in March. The sign behind her reads: "Proceed and be bold."
As project manager of #LeanInTogether, Alia Whitney-Johnson '04 is helping build awareness nationally of men's role in reaching gender equality, at work and at home. The public awareness campaign launched in March and has engaged the likes of Beyoncé, Hugh Jackman, Oprah, and Sheryl Sandberg in reaching an estimated 460 million people so far. The campaign builds on Sandberg's Lean In initiative to empower all women to achieve their ambitions.
"It's been a wonderful experience, looking at the question of how do we change the conversation," Whitney-Johnson says. "We're bringing men into the conversation for the first time, and there's so many men who are incredibly supportive of women, it's important to celebrate that."
Whitney-Johnson is spending a year on leave from her employer, the global consultancy McKinsey & Company, to work on Lean In. It's just the latest chapter in the 28-year-old's career story that includes founding a global nonprofit while still an undergraduate at the Massachusetts Institute of Technology (MIT), winning a Rhodes Scholarship to pursue a master's degree in international development at the University of Oxford, and joining McKinsey two years ago.
The journey really began, Whitney-Johnson says, when she set her sights on attending North Carolina School of Science and Mathematics but was rejected, forcing her to appeal, winning admittance on the second round. Attending NCSSM opened her eyes to a world much bigger than she'd known growing up in Asheville, North Carolina. The school's grounding in the sciences led her to choose MIT for college.
Alia Whitney-Johnson, second from right, with the Emerge team in Sri Lanka
The most pivotal step on her journey came the summer after her first year at college. Whitney-Johnson joined a relief trip to Sri Lanka following the Indian Ocean tsunami of 2004. There, in a shelter for girls who had survived sexual abuse, she met an 11-year-old who had been impregnated by her father and was fighting the abuse in court – to protect her younger sisters. The girl's strength and courage to speak up, in a culture that regularly turned its back on such abuse, struck Whitney-Johnson. She returned to the shelter with beads and jewelry tools (her hobby since starting a jewelry "business" as a child). Soon she had engaged the girls in conversation in a way that the other staff hadn't seen.
"I quickly found that making jewelry was a kind of art therapy," Whitney-Johnson remembers. "We then moved into teaching them math with the beads and eventually about running a business." Through successive visits to Sri Lanka and successful recruiting of volunteers and resources, she fashioned Emerge Global, an international nonprofit supporting Sri Lankan girls – all while completing her environmental engineering degree at MIT. Emerge turns shelters for abused girls into hubs of entrepreneurship where the girls learn the business and life skills they need to support themselves by selling their jewelry.
In 2013, Whitney-Johnson transitioned from Emerge's executive director to a member of its board and joined McKinsey. In August 2014, McKinsey tapped her to join Lean In, where she became the#LeanInTogether project manager. When this stint wraps up, she could see herself extending the work that Emerge begins.
"We have to figure out how to protect these girls after they leave the shelter," she says. "They don't have witness protection or other legal safeguards right now."
She knows how much progress her nonprofit has made. "When I started helping, the average court case for these girls took seven years," she says. "They were locked out of society, they couldn't go to school so they couldn't find job opportunities. Now the average case is down to nine months. There's still a long way to go. But people are talking about the issues now, and the media covers the stories. When we started, no one would talk about it, no reporters would cover us."
And that first girl, the 11-year-old who was brave enough to take her father in court? She's married and runs a bakery beside her home while raising her daughter. "She takes the train to see me when I come to Sri Lanka, she lives four hours from our office," Whitney-Johnson says.
Through that girl, Whitney-Johnson has found career direction and purpose. "I know I'm lucky to have found my passion when I was 19. People often go their whole lives before they find what lights the fire in their bellies."