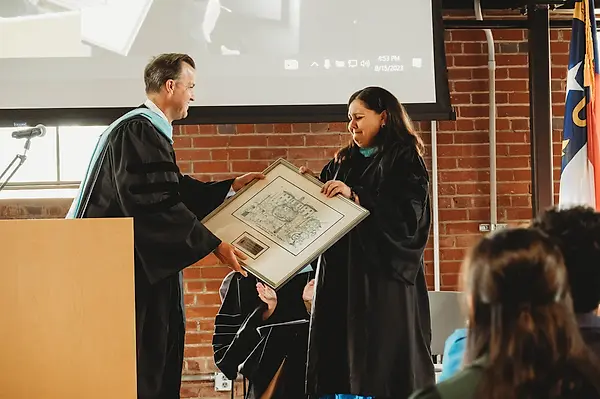 news
A convocation unlike any other
For those who were a part of it, NCSSM's 44th Convocation will surely be remembered for years to come for a number of reasons. For the first time in the school's history, the official kickoff to the school year originated from somewhere other than Durham as the school's Morganton campus – now in its second year of operation – hosted the event.  
The remarks delivered by keynote speaker, Erin Locklear '93, were emotionally powerful, with Locklear and those in her audience struggling at times against tears as she shared her wisdom with the classes of 2024 and 2025.   
Mother Nature appeared, too. Just as the live-streamed event began, a severe thunderstorm swept through Durham and knocked out power to campus, leaving in darkness the more than 700 well-dressed students, faculty, and staff gathered there in the school's gymnasium to watch the event. They would have to wait more than 24 hours for power to be restored to watch the recording of the remainder of the ceremony.  
Before the drama unfolded, NCSSM's Chancellor Dr. Todd Roberts shared a few words about the significance of the day. "The plan," he said, "is to alternate where the convocation speaker is each year. This year we're in Morganton, and next year will be in Durham, and back and forth, and so this is another example of how we're intentionally focused on being one institution."   Kevin Baxter, Vice Chancellor and Chief Campus Officer for NCSSM-Morganton, remarked on the significance of the event, both for the Morganton campus and the greater NCSSM community. "It seems like we're running out of firsts, but this is a huge one," he said. "This is a big milestone where we're finally hosting this institutional event to kick off the academic year for the entire school. It's an awesome moment for the school as a whole, and a crowning moment for NCSSM-Morganton to have all 300 students together in one building." 
After opening words from Baxter, Roberts, and Terry Lynch, Vice Chancellor and Chief Campus Officer for NCSSM-Durham, who appeared from Durham while it was still online, Seven Skinner '24, president of NCSSM-Morganton's student government association, came to the podium to share her remarks. NCSSM-Durham went offline as she rose to the podium. While she spoke, back in Durham nervous laughter replaced the initial gasp of shock as cell phone screens came to life, the blue-white light tracing fire-fly patterns in the dark as together the students sang Taylor Swift's "You Belong With Me" until the emergency lights kicked on.
"They made the best of it," said Brock Winslow, NCSSM's Chief of Staff and Vice Chancellor for External Relations, who shared in the event from Durham. "It was almost like being at a concert."
In Morganton, Seven remained completely composed. She was to conclude her remarks by introducing NCSSM-Durham's student government association president, Steaven Ramírez Serrano '24. But with Durham in the dark and Steaven unavailable, Seven saved the moment with a well-timed ad-lib that illustrated the bond developing between the sister campuses. "We'll cover for each other," she said. "We're all connected."
Steaven did get a chance to say hello to his peers in Morganton, thanks to Katie O'Connor, NCSSM's Provost and Vice Chancellor for Academic Programs. She reached him by phone during her turn at the podium and put him on speaker, next to the microphone. "It's nice to be here with you all by phone," Steaven said to laughter from the Morganton assembly as his own classmates back in Durham could be heard in the background of the call, chattering excitedly.
"One big happy family," O'Connor said as she put her phone away, and then introduced Locklear, describing the keynote speaker (and member of the school's board of trustees) as a deeply empathetic person guided by her heart.
With an eagle feather pin on her chest and regalia draping a ribbon skirt worn by many Native American women to events of importance, Locklear confirmed O'Connor's characterization with a preface to her remarks.
"My emotions are triggered when I discuss topics of gratitude and people I connect with," she said. "NCSSM changed the trajectory of my life…and so I am full of gratitude for the amazing people I have met at NCSSM. Please bear with me as I am sure I will have intense moments of emotion with you today."
After a few words of encouragement for students adjusting to NCSSM's academic rigor, Locklear delved into what she believes marks NCSSM as one of the best experiences alumni have ever had.
"In my tribe, the Lumbee Tribe, when we meet another Lumbee we don't know we often ask: 'Who's your people?' It is as automatic and ubiquitous as asking someone's name or shaking their hand," Locklear said. "On its surface, this question is used to figure out literally who someone's people are: who is your family – your parents, your grandparents? Do I know them? Do I have a connection to your people, and therefore to you? Do we know each other, even though we have never met, because our people know each other? But to reach a little deeper, 'Who's your people' really asks – who do you follow, who do you walk alongside, and who are you walking in front of so they can follow you?
"'Who's your people,'" Locklear continued, "means much more than just who your family is – it asks you who you care about, who built you, who invested in you, who gets you excited, who makes you feel at home, who makes you feel safe, who challenges you, who reigns you in, who reminds you of who you are when you forget, who tells you the hard truth in a soft way, who celebrates you, who invests in you."
Their two years at NCSSM, she told the students, will broaden their sense of family and create new and lasting relationships with people they never would have imagined knowing otherwise.
Locklear closed with a reminder to students to remain strong in their sense of self, and in their abilities. There will be times, she said, when they might feel that they don't belong. "That feeling, when it comes, will be wrong. You belong," she told them. "You will learn, you will thrive, you will stumble, and you will be a unique and special part of this community this year. You are among your people and you are someone else's people. Remember that." 
Sarah Hedgecock, a Morganton junior from Burnsville, NC, drew comfort from Locklear's words. "She was able to relate on a whole new level," Sarah said. "She talked a lot about belonging, which was really nice because a lot of us are still getting used to living away from home and we're getting used to a new environment. I like how she said that when that feeling [of not belonging] comes, that it's going to be wrong. I was like, 'Thanks.'"
Mir Quddus, a junior from Goldsboro, NC, sat with several other new students at a table outside the Morganton Academic Commons after the event. All of them admitted to being moved by Locklear's remarks. "When she started getting emotional during her speech, I felt like I would one day be feeling the same thing she was feeling," Mir said. "I can see myself in the future looking back at NCSSM and getting really emotional. It already feels really different from my hometown experience. I think NCSSM is really going to change the way I live and how I see things."