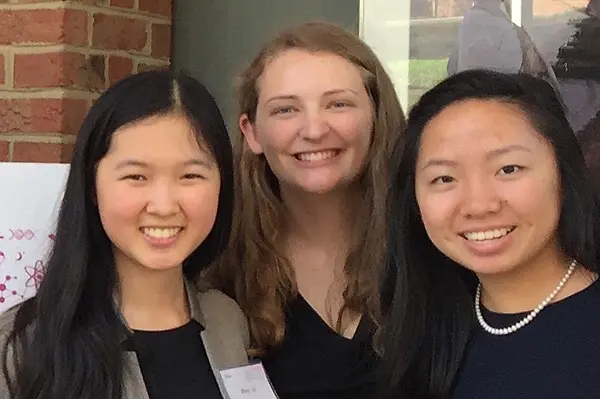 news
2016 regional science fair winners
Some of NCSSM's award winners at the 2016 North Carolina Science and Engineering Fair
Students who qualified from Region 3b had a good showing at the North Carolina Science and Engineering Fair on April 2 at Meredith College. Intel International Science and Engineering Fair (Intel ISEF) winners Kimberly Andreassen '16, Alisa Cui '16, and Taesoo Lee '16 will join Region 3b winners Katherine Yang '16 and Rishi Sundaresan '16 in Phoenix in early May for the international competition, with participants from 70 countries in attendance. 
NCSSM award winners include:
Biological Science A
1st place, Kimberly Andreassen
The effects of climate change on evergreen bagworm development and immunity
  3rd place, Angela Deng and Shiaoching Tse
Potato glycoalkaloid extracts as an antibacterial treatment for E. coli
Chemistry
1st place, Alisa Cui
Mechanism of inactivation of piezo ion channels
Earth/Environmental
Honorable Mention, Sarah Perkins and Elizabeth Yang
Development of novel activated carbon filter for targeted removal of common water contaminants
Engineering
2nd place, Michael Carter, Kenny Hoang, Karl Westendorff
Creation of a polymer radiation shield embedded with loaded activated charcoal for use aboard spacecraft
Physics/Math
1st place, Taesoo Lee
Improving exciton transport in novel tetracarbonalkoxyphenyl porphyrin thin films for enhanced organic optoelectronics
Technology
3rd place, Raphael Kim
Assessing the feasibility of characterizing three-state protein dynamics using nuclear magnetic resonance Carr-Purcell=Meiboom-Gill
Grand Awards (ISEF)
Kimberly Andreassen
Alisa Cui
Taesoo Lee
Special Awards
NC American Water Works
1st place, Sarah Perkins & Elizabeth Yang
2nd place, Sarah Wu
Stockholm Junior Water Prize
Perkins & Yang; Sarah Wu
SPIE 
1st place, Ashley Yang
Army Awards
Technology Bronze
Sarah Perkins & Elizabeth Yang   Chemistry Silver
Vibha Puri   Chemistry Bronze
Alisa Cui   Physics Gold
Matthew Zheng   Physics Bronze
Taesoo Lee   Earth/Environmental Gold
Sarah Wu 
Share this post.